STEM
STEM Initiatives
As part of our belief in the importance of a broad and balanced curriculum, our school embraces STEM (Science, Technology, Engineering and Maths), as an integral facet to our Curriculum. We see STEM as a means to enabling our children to see how real world issues can be investigated and solved. Equally as importantly we want all our children to see how they can impact positively through their use of science and technology on local and global issues.
At Mary Elton we invite a diverse selection of visitors who have a scientific background into our school. They are able to explain to our children who they are, what they do, what inspires them and problems they have to solve. This helps to promote understanding, curiosity and aspiration. Our children also engage with local and global organisations and companies in projects that they can access – from reception to Year 6. These have included designing hi-tech safari lodges, designing wheelchairs, making models that test flooding issues and instigating environmental campaigns. We are involved in science challenges, competitions and meeting with other schools and facilitate child led initiatives, so providing relevant and engaging learning that is linked to their real world.
We have worked with STEM Learning locally and nationally and accessed expertise through the STEM Ambassador Programmes such as Polar Challenge. This has supported our teaching by enabling us to offer high quality workshops. It is the hands-on practical making, doing and investigating in STEM which children enjoy and learn most from, and which we are committed to. STEM also allows children to develop the skill base that they need to become effective learners, such as collaboration, problem solving and enquiry. It also enables them to look at their world with awe and wonder, see links and ask the question what if…..
We have used our expertise in STEM to do outreach work locally and in Tanzania, which we have then been able to incorporate into our curriculum and enhance our children's learning. We have been recognised for our innovative approaches as for example at a Welcome Trust science awards ceremony. Our belief in using STEM as part of a broad and balanced curriculum and providing creative and engaging learning, has also put us at the vanguard in this field. As a result we are proud to be involved in supporting national initiatives at the highest levels.
STEM Projects
Ocean Plastic Pollution: We learnt the 'song of the sea', along with many other schools, and sang it on 7th June - the day before Worlds Oceans Day. The aim was to get as many schools to sing this song on one day and encourage leaders to take more action to stop plastic pollution. Resources to download to learn the song yourself: song of the sea , song of the sea lyrics PPT, song of the sea lyrics PDF , song of the sea music PDF and sing-a-long track.
STEM Project Sea Birds March 2019
Our school, at the 2019 STEM Challenge at the Wills Memorial Building.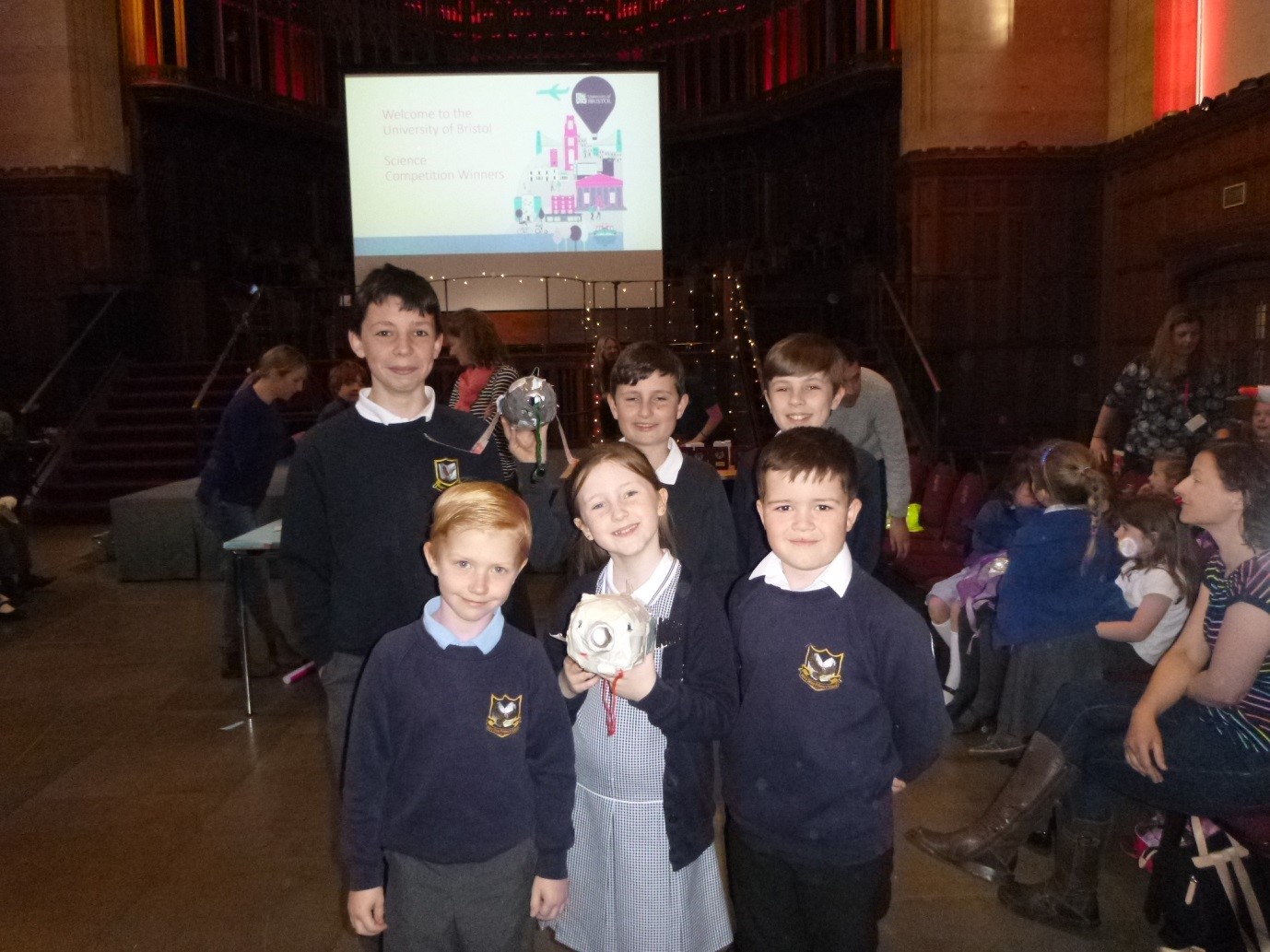 The event was pupil lead and involved 28 schools nationally. The initiative was designed to highlight the plight of our oceans due to plastic contamination. The children involved businesses, designed a national song, lobbied politicians, contacted celebrities, clean beaches and used their STEM knowledge and skills to help make an impact on this issue.
KS2 Visit to Big Bang STEM Fair March 2018
STEM Project Hedgehog March 2018
North Somerset Times Polar Explorer Article March 2018
Stem Photos