Whole School Events
2021-2022
22nd October 2021 - Harvest
Wow! Thank you so much to you all for your wonderful donations for Harvest to go to the Foodbank. We are completely overwhelmed by your generosity and we know what a difference this will make to so many people. We had a Harvest Service with a difference this morning as each class performed their story, song, poem or rap from their classroom while the rest of us watched on a screen! It didn't dampen our spirits though, the children were all wonderful.
14th October 2021 - Chick update!
Our solo chick will be going to a new home to join a group of quail chicks and a group of chicks which will be hatching out later today or tomorrow.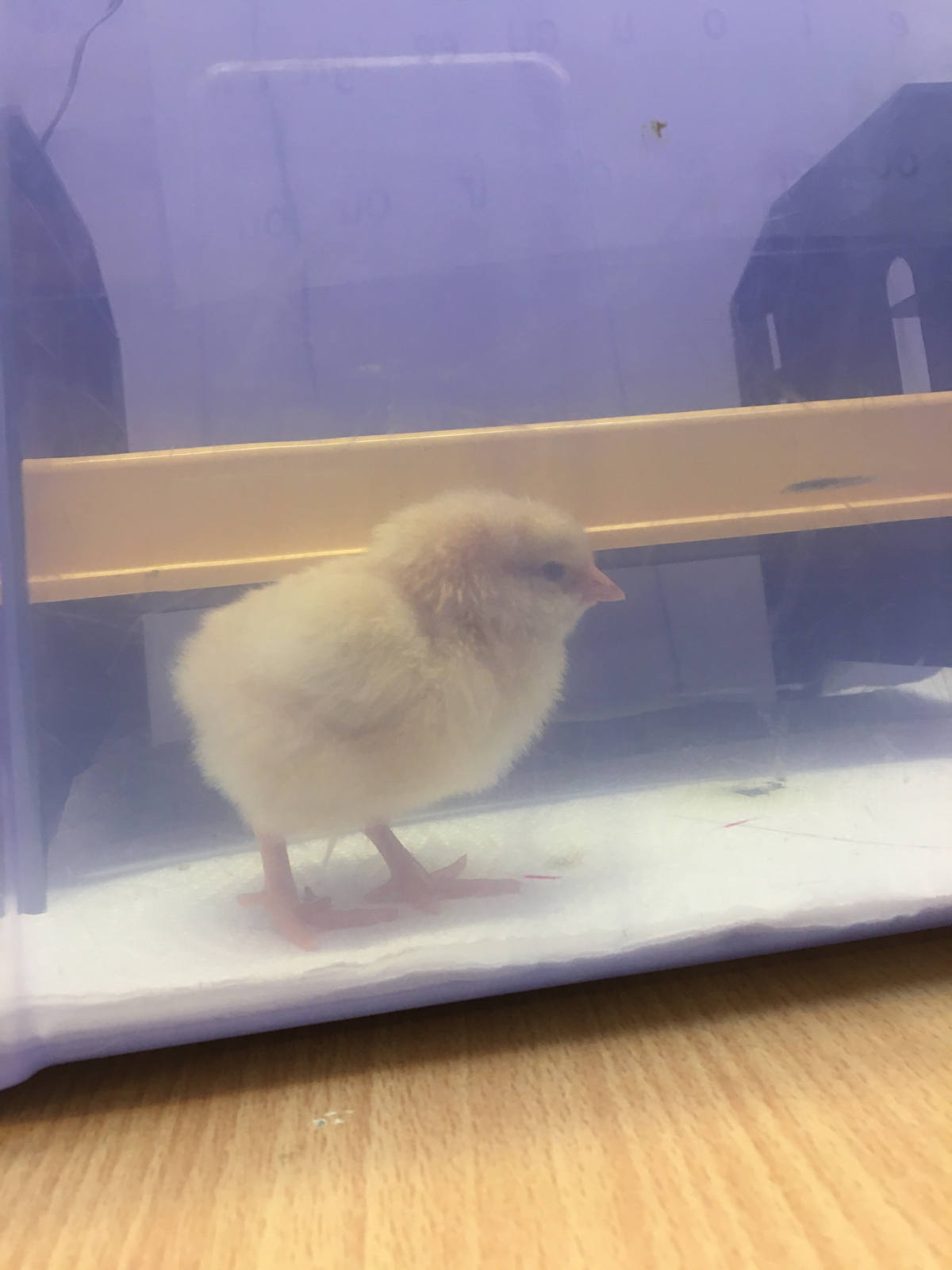 11th October 2021 - Baby Chick!
The newest addition to Mary Elton- a Buff Orpington Chick! Fingers crossed we have others hatch out- we will have to wait and see.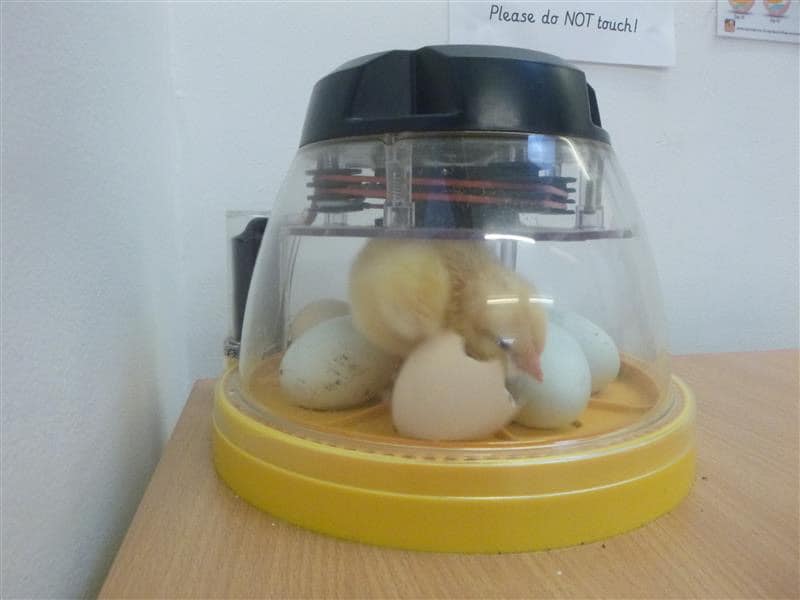 10th October 2021 - Wheelchair donation in Tanzania
Peter (headteacher from Kikoboga School) sent this photo of a secondary pupil called Sabrina who needed a wheelchair and has just received it. It was financed with our generous support at the end of last term. Without this wheelchair, Sabrina's outcomes in life would be significantly limited and she sends her thanks to us.
As a school, we have financed close to 20 wheelchairs for those in need in Tanzania. They are made in the north of the country in Arusha by a local company called 'Mobility Care' - some of our teachers have been to visit the workshop on previous trips. They are then transported down to Peter in Kikiboga school and then sent off to the recipient.
2020-2021
8th July 2021 - Whole School Maths Day!
For our maths day, each year group explored maths in art. Collectively we explored and created art work inspired by Andy Goldsworthy, Alex Kohnahin, Paul Klee, M C Escher, Mondrian and the Fibonnaci spiral. Here are some examples of what happens when the talented children of Mary Elton combine their mathematical and artistic skills together! Well done everyone!
21st May 2021 - Royal Mail Stamp Competition
We are SO impressed with the entries for the Royal Mail Stamps Competition, celebrating the heroes of the pandemic. What a talented bunch we have at Mary Elton!
18th May 2021 - Frog release!
Eleanor in Alder class had looked after some frog spawn at home in a fish tank. They cared for the frog spawn so well that tadpoles grew and turned into frogs. Eleanor asked if she could release the frogs into our school pond as they were starting to escape from their fish tank. Eleanor's Mum, Nan and Little sister came into school at the end of the day on Monday to release the frogs. Eleanor wished them all luck as they swam away.
30th March 2021 - Hot Cross Buns!
St Andrew's church kindly donated a hot cross bun to every child in the school. Wow! Here are Year 5 enjoying theirs and learning about its significance in relation to the Easter story.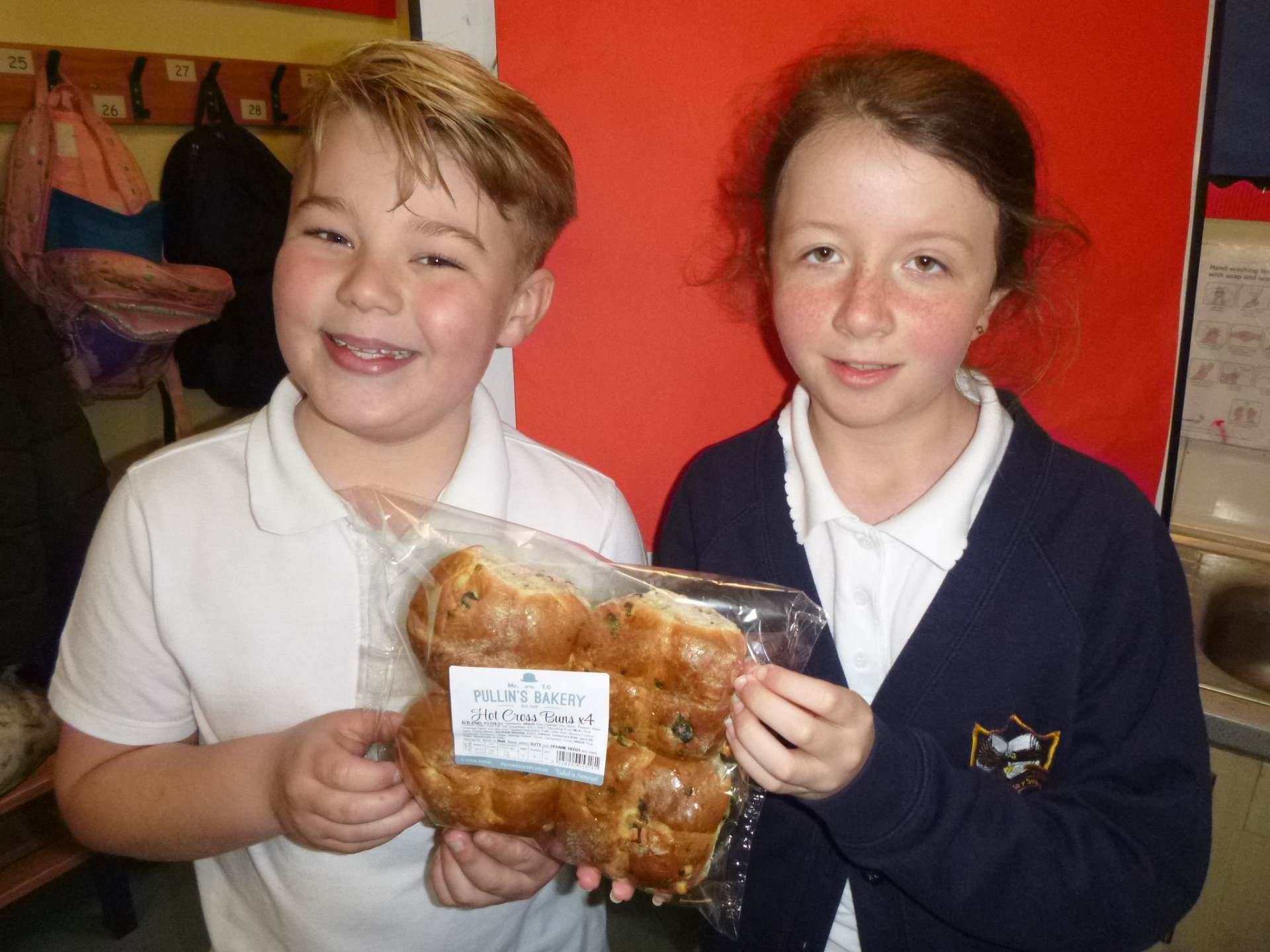 4th March 2021 - World Book Day!
Year groups, both at home and in school, embraced World Book Day by dressing up and taking part in a celebration of all things books! We had so many amazing costumes yet again - thank you parents/carers for the effort here! Activities across the school consisted of joining the BBC LIVE lesson, writing book reviews, redesigning book covers and listening to a wide range of stories.
9th February 2021 - Safer Internet Day!
So, so much went on to celebrate Safer Internet Day 2021, both in and out of school! The WHOLE school committed to pledging about how we can create #AnInternetWeTrust as part of a Guinness World Record attempt! We thought about questions to ask when you are looking at information online, for example: Who wrote this? Why was it written? We discussed words or questions we could ask to help us spot if something is reliable online. Some year groups provided illustrations or examples of what they know is trustworthy online or what online clues we could look for that may make something seem less reliable. Ultimately, we all pledged to help to create a more trustworthy internet.
In addition to this, year groups embarked on their own additional, age appropriate, activities to mark the day such as; EYFS who shared the story of Digiduck, Year 2 who watched 'sharing photos' from Jessie and Friends and discussed photo sharing and Year 5 who shared the #Goldilocks story and created advice posters.
8th February 2021 - Tree Planting!
This week, the children that are in school have been looking at how we can prepare the school for the Spring, when hopefully we will all be together. Two weeks ago, children found that a lot of our willow fencing had not survived the winter. They also felt we needed to increase our habitats for insects and birds. We heard that 'Sustainable Clevedon' might be able to help us. So, the children contacted Ruth Gofton, who works for them, to see if they had any native hedging we could have. She was so keen to help and gave us a huge range of saplings to plant - 300 in all! She also gave us 3 trees: a medlar and mulberry, to go in our school garden and a lime to replace one of our alders by the school car park that had died. She was also able to help us plant these trees. A big thank you to 'Sustainable Clevedon'! We look forward to collaborating with them in the future.
17th December 2020 - Destination Bethlehem
This year, we were unable to travel to Bethlehem in the usual way so the Destination Bethlehem team provided us with an online journey instead.
We had a zoom call from Aurelia Crown, Herod's crown maker who took us through the various stages of the Christmas story using the theme of crowns and introducing various characters along the way. We learnt that Jesus was King of the Jews and later on in his life, wore a crown of thorns. We became expert crown makers, completed puzzles along the journey and even learnt that the Latin word for crown is 'corona' and that this is why the coronavirus is so called-it has crown-like spikes on its surface! Here are some pictures showing some stages of the journey from various year groups:
13th November 2020 - Children in Need
Mary Elton are extremely proud to have participated in this year's 'Children in Need' fundraising campaign. We have spent the week joining in with 5 minute daily workouts with Joe Wicks and we especially enjoyed Friday's LIVE workout which was the end of Joe's 24 hour PE challenge! Every day has given us the opportunity to focus on both our physical and mental wellbeing and share activities in our classrooms. We have used conversation starters to talk and listen to one another, we have practised mindfulness, talked about the effects of physical activity on our mental health, learnt new skills and discussed how being kind to one another can make you feel good! On Friday, we dressed in bright colours and generously donated to Children in Need. The money we raised will directly benefit children all across the UK through funding local charities and projects to help remove the barriers that are facing children and young people, so that they can thrive. As you can see from the photos, each year group had great fun with Joe's workouts as we all learnt about how to look after our physical and mental wellbeing. A big 'Thank you' to all the lovely parents and carers who donated to Children in Need, we know that the donations will have a direct impact on those children who need it most.
7th October 2020 - Raise the Roof
Year 3 and Year 4 were very lucky to have visits from Anne Clough today to learn the songs for our upcoming Raise the Roof festival. The theme of this year's 'Raise The Roof' Singing Festival is 'Music Matters!' and is about the importance of music to our lives and how it affects us in lots of different ways- as well as being such good fun! This year, as we are unable to get together, the children will take part in smaller groups with distance between each singer and will attended by various schools via teams. We are so grateful that, in some way, we are able to continue our yearly Raise the Roof festival.
29th September 2020 - House Captains/Vice Captains!
Today, Mr Hudd announced the results of the House and Vice-house captain nominations which created a great deal of excitement! The successful candidates are now proudly wearing their House badges and looking forward to being positive role models to the rest of the school. Here are the results:-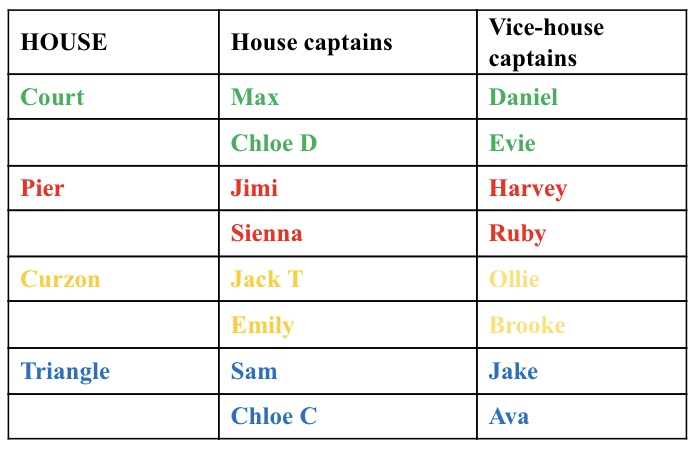 14th September 2020 - Whole School Display
As part of our start back to school, we all looked at the book 'Here we are' by Oliver Jeffers. Each year group looked at different aspects of the World and displayed their work outside for parents/carers to see.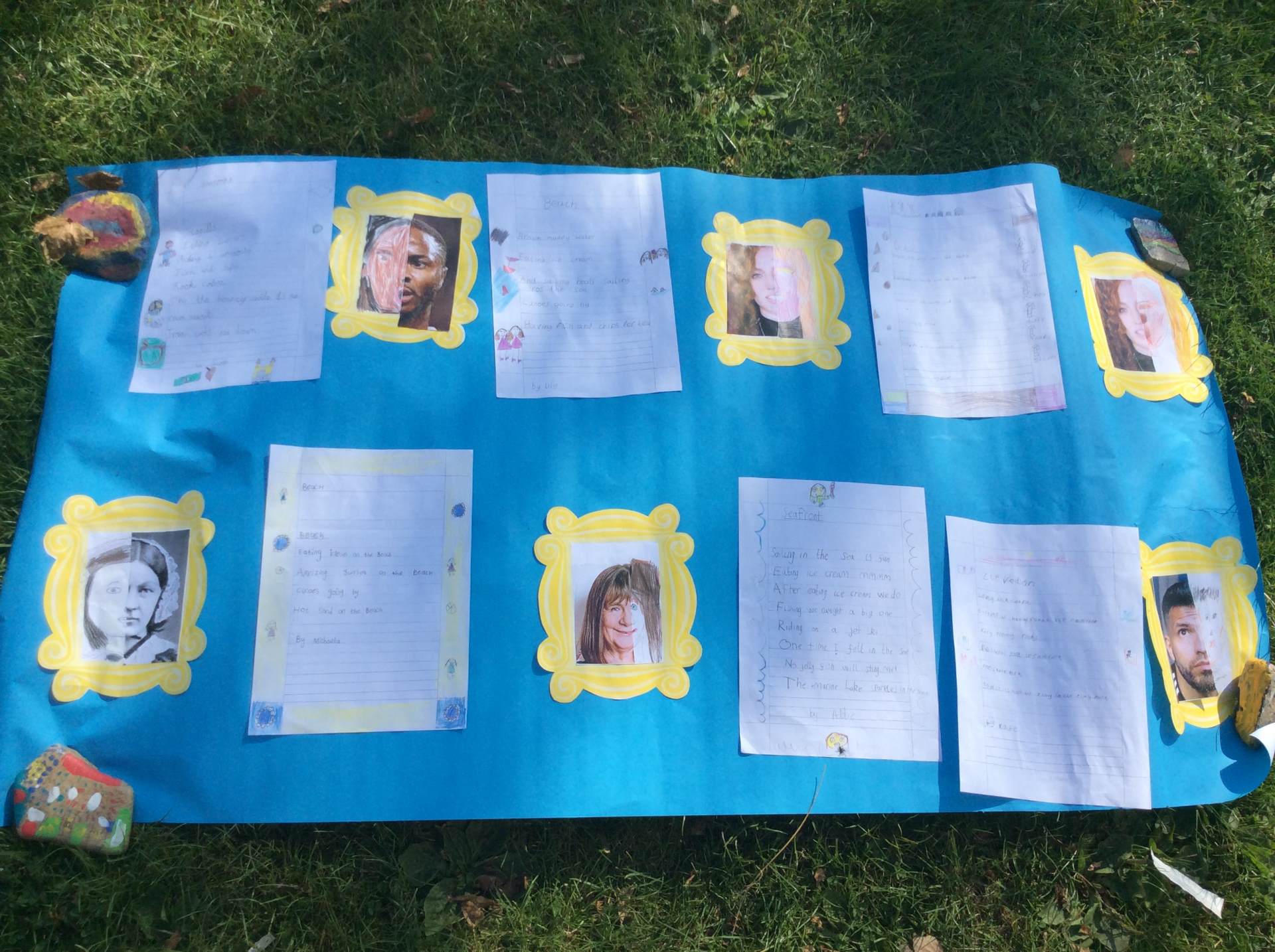 2019 - 2020
5th March 2020 - World Book Day!
The children were encouraged to dress up as their favourite book character today. They were invited to a surprise assembly over our loud speaker system and played 'guess the book' from the front covers. Each teacher then took a different class to 'share a story'. Mrs Frisby shared 'Ice Trap' with Y4 Maple class, Miss Brown read 'Giraffes can't dance' to Y1 Beech class, Ash and Alder swapped to hear either 'The way home for Wolf' or 'Superworm', Y5 Silver Birch listened to some 'Silly Stories' with Mrs Tayler and Y2 Elm heard Ms Stanford read 'The Highway Rat' … to name a few! A huge thank you to all parents/carers for the amazing costumes!
14th February 2020 - Valentines Breakfast!
Our fantastic Breakfast Club team went all out, yet again, to create another themed breakfast experience! Breakfast Club were definitely feeling the 'love' on Valentines Day!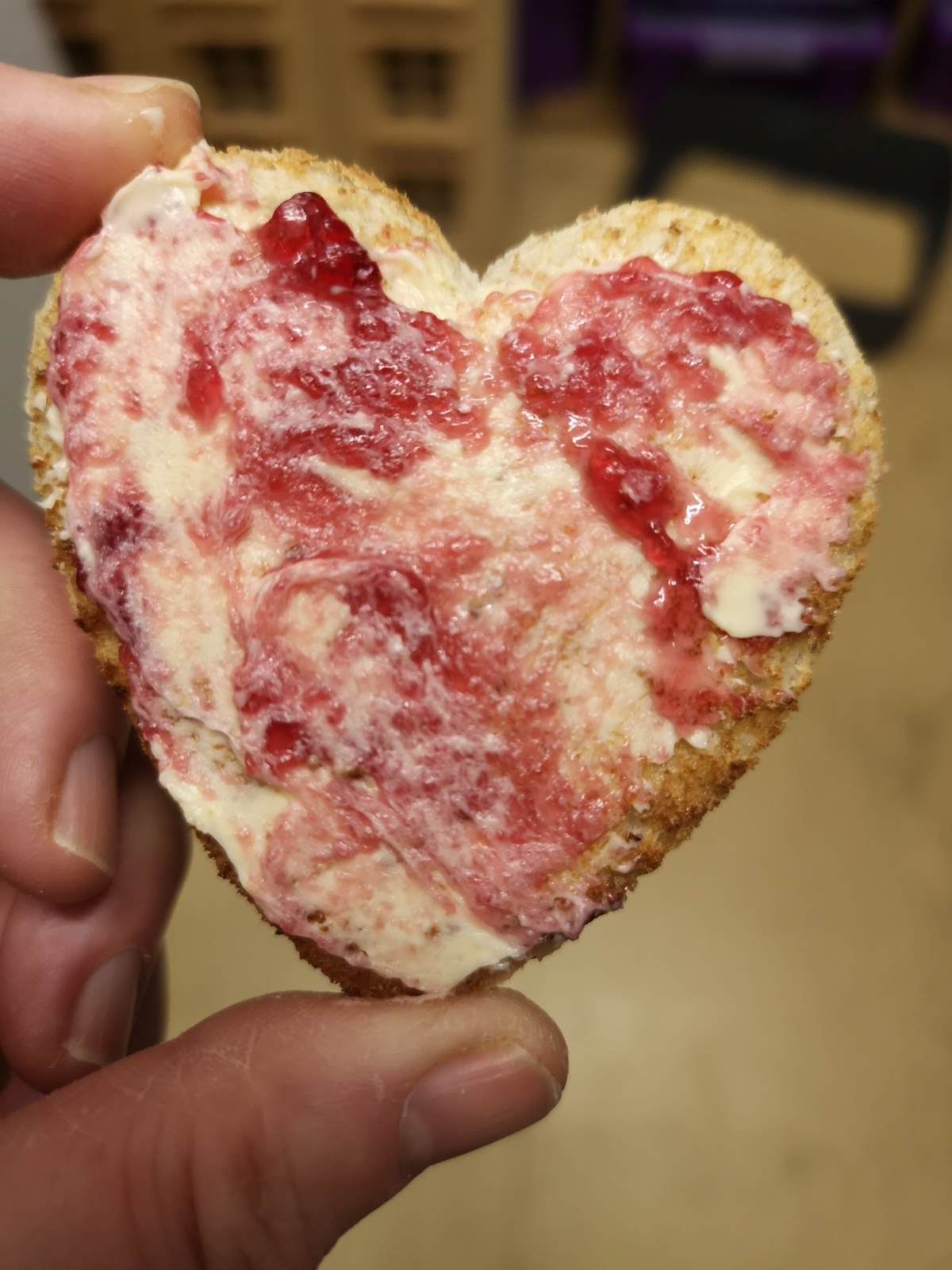 12th February 2020 - Australia Dress Up Day!
Thank you for your amazing support on G'day Day. The children looked fantastic in their costumes. We raised an incredible £368.97!! This money will be sent to WWF to help their efforts in caring for the animals affected by the terrible bush-fires. We are now officially 'Koala Protectors'.
11th February 2020 - Safer Internet Day Exhibition!
Safer Internet Day is celebrated globally in February each year to promote the safe and positive use of digital technology for children and young people and inspire a national conversation. The global theme for Safer Internet Day is "Together for a better internet", with this year's UK campaign entitled "Free to be me."
Each year group took part in activities all morning to mark the day but have also been spending their term 3 ICT time focussing on E-Safety. The big question this year is: Are young people free to be themselves online? Research finds that being online is both liberating and limiting for children. Year groups spent time discussing their online and offline identities and how they can ensure that they are safe on their devices.
The work completed and examples of discussions were then displayed in the hall for parents/carers and families to view. Year 4 children manned the stalls and explained what topics had been covered in each year group. Groups also provided the adults with facts and statistics, as well as useful resources to take away.
24th January 2020 - Breakfast Club special breakfast!
Our fantastic and creative Breakfast Club swapped their cereal and toast today for noodles, stir fry and fortune cookies! Chinese New Year style breakfast today!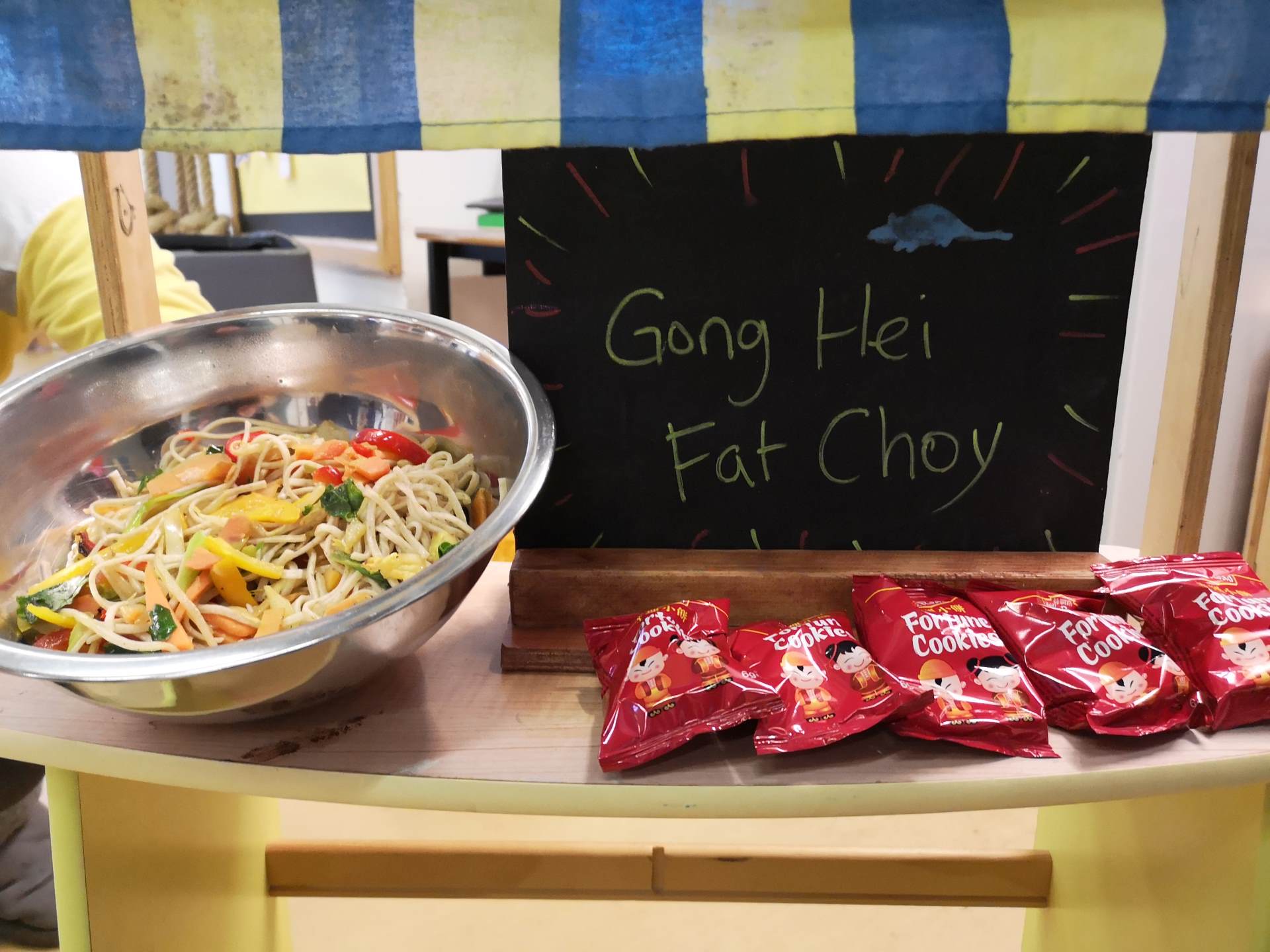 16th January 2020 - Indulgence Chocolate Shop Winners!
Amy Bennett, owner of Indulgence Chocolate Shop on Hill Road, came into Year 4 today to present the winners of the 'Chocolate Bar Invention' competition. As part of their brand new 'Chocolate' topic, the children were tasked to come up with a new chocolate bar flavour, complete with name, wrapper design and persuasive advertisement. Amy explained how difficult it was to decide on a winner and chose 3 of her favourites to share the honour. The children who won had been extremely innovative and creative with catchy slogans, persuasive language and good use of colour in their designs. The winning entries won a gigantic chocolate coin and their work will be displayed in the shop window! Well done!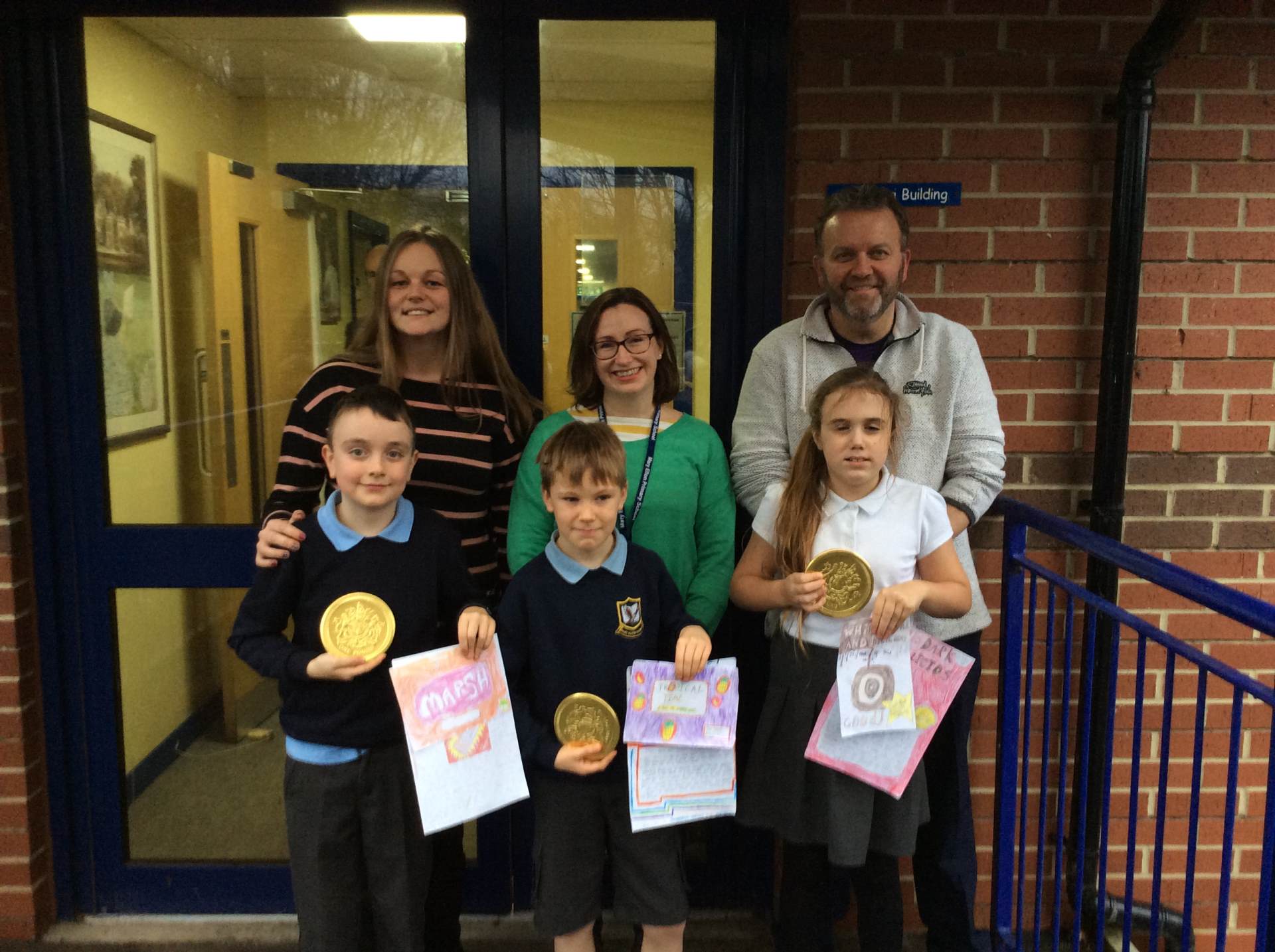 20th December 2019 - Hawthorns Christmas Card Competition
Mary Elton engages with many partners across our wider community. The Hawthorns is a partner with whom we have very strong links. Throughout the year, we are involved in initiatives that support our curriculum and our children's learning. A child in Year 5 won a competition to design a Christmas card for their company. The prize and award was presented in assembly. Well done!
19th December 2019 - Elf Olympics
We held the very first 'Elf Olympics' with teams taking part in a range of festive activities to earn points for their house. Activities included wrapping up a house captain, decorating a Christmas tree, guessing what's inside different feelie presents, name that Christmas tune, snowball bobbing and everyone's favourite (although probably not Mr Hudd's!) eating a cold Christmas dinner. Thanks go to the house captains again for their enthusiasm and help to organise and run the event and a huge well done to everyone who took part. It was a very noisy, fun afternoon.
16th - 19th December 2019 - KS2 Christmas Services
Our "creativity" and "courage" were very evident in this year's carol service as these photos show. Thank you to Rev. Cranshaw for making us so welcome at St Andrew's Church and to the parents and carers who helped us learn words and provided costumes which were beautiful. Our teachers were very proud of us all.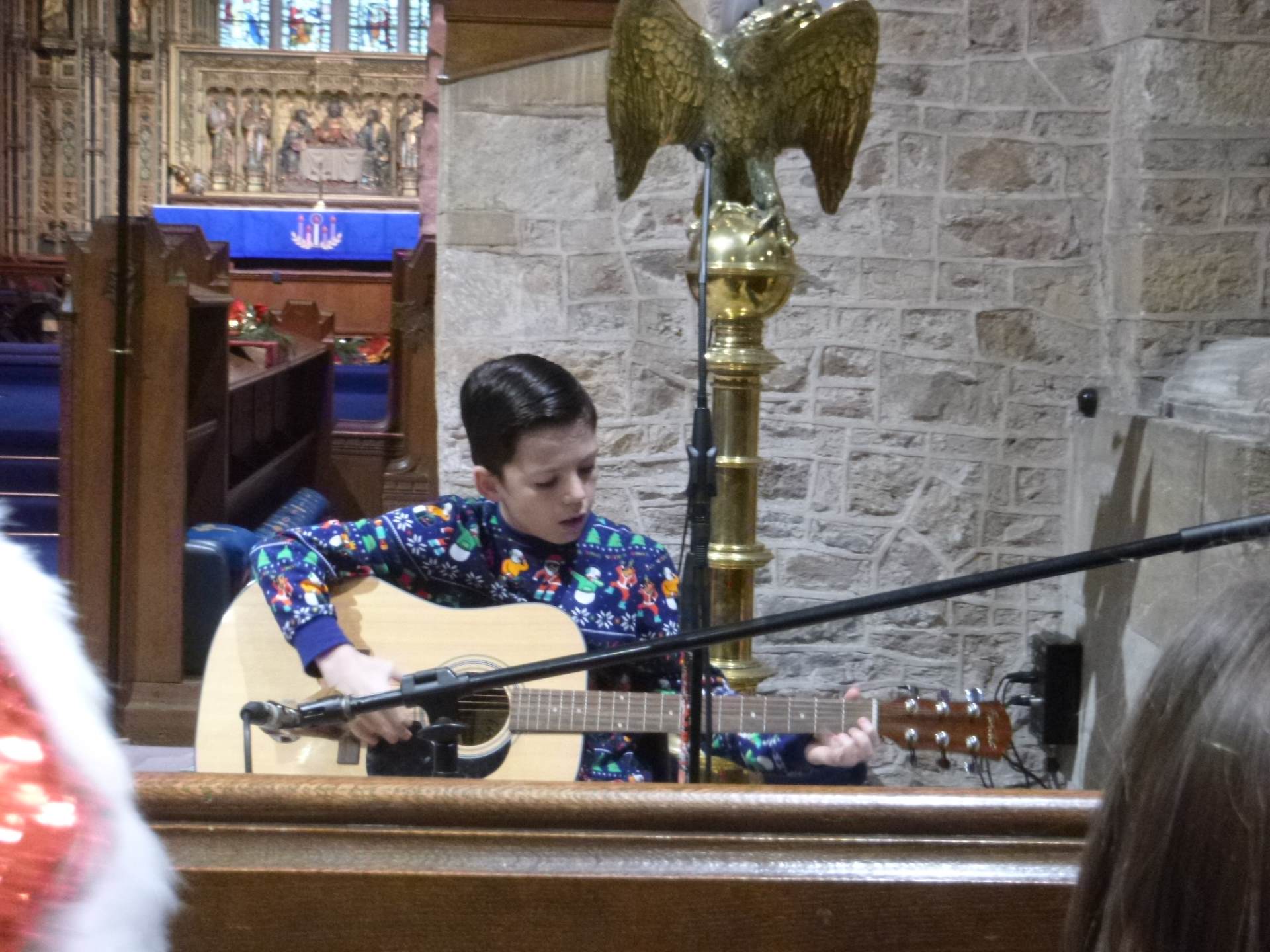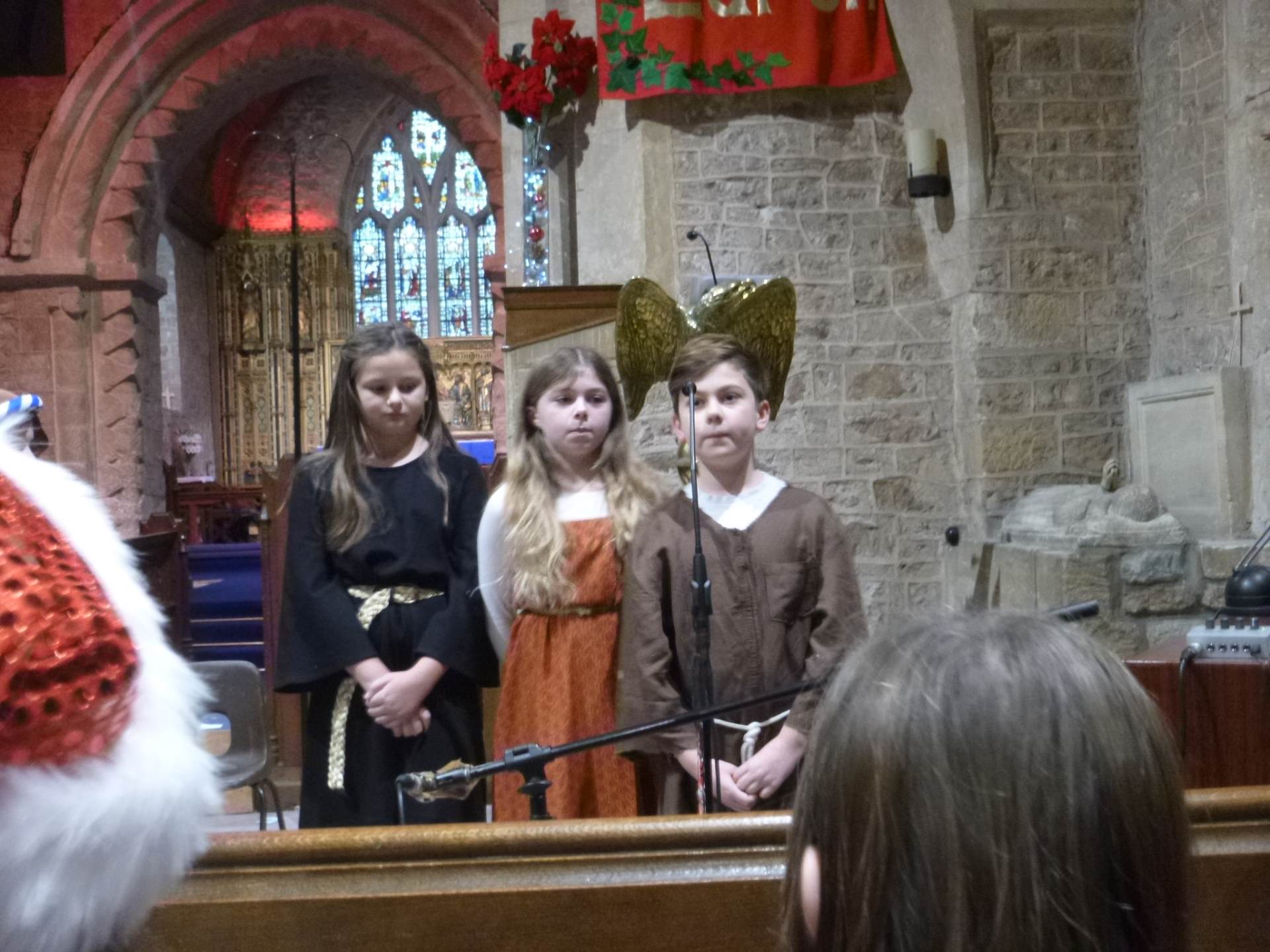 3rd and 5th December 2019 - Destination Bethlehem
It was great to return to "Bethlehem" this week to hear the Christmas story. This year, the theme was angels and so we met the angels who told the shepherds about Jesus' birth, the angel who visited Mary and even the Easter angel who showed us that Jesus' tomb was empty. Probably our favourite bit though was the angel training centre where we learnt to "fly" by means of an enormous slide! Some of the staff even took part in this training session! Thank you to all the volunteers at Clevedon Baptist Church for putting this event on and to the parents and carers who helped walk us there and back. Look out for an angel Christmas decoration winging its way home to you!
20th and 21st November 2019 - Gym Run
The children in KS2 have all been participating in 'Gym Run'. 'Gym Run' is a fitness course that uses a graded badge scheme that will enable children to set personal goals and targets. The children have completed five challenges to achieve one of eight stages in the badge system. The children will then have opportunities throughout the year to achieve their targets, set new ones and progress through the stages.
15th November 2019 - Y6 Girls Football Competition
Mary Elton Girls Football Team played in the NSSPEA Finals at Bristol Grammar School Sports Grounds where they placed 2nd. They will continue their quest in January to play in the next round. Well Done! We are so proud of you all!
14th November 2019 - Counter Bullying Conference
Representatives from our School Council attended the Counter Bullying Conference held at Yeo Moor. Our representatives from were Abbie, Tailor, Katie and Oscar. Mrs Meredith attended with them and said that they "were a pleasure to take and were congratulated on their collaborative work, good listening and manners." They created a canvas with a picture of a tree awaiting to have leaves added. On the leaves will be positive comments for example, Oscar wanted to add a leaf which said "pass on a smile". The idea is for the tree to be put up on our School Councillor's board with leaves cut out and pens in a folder for our children to contribute by writing positive comments on the leaves and adding them to the tree.
7th November 2019 - Year 6 Boys and Girls Football Competition
Congratulations to both Year 6 boys and girls football teams. They BOTH won their competitions today at Clevedon School and will play in the finals next Thursday and Friday! Huge well done to all and good luck for next week!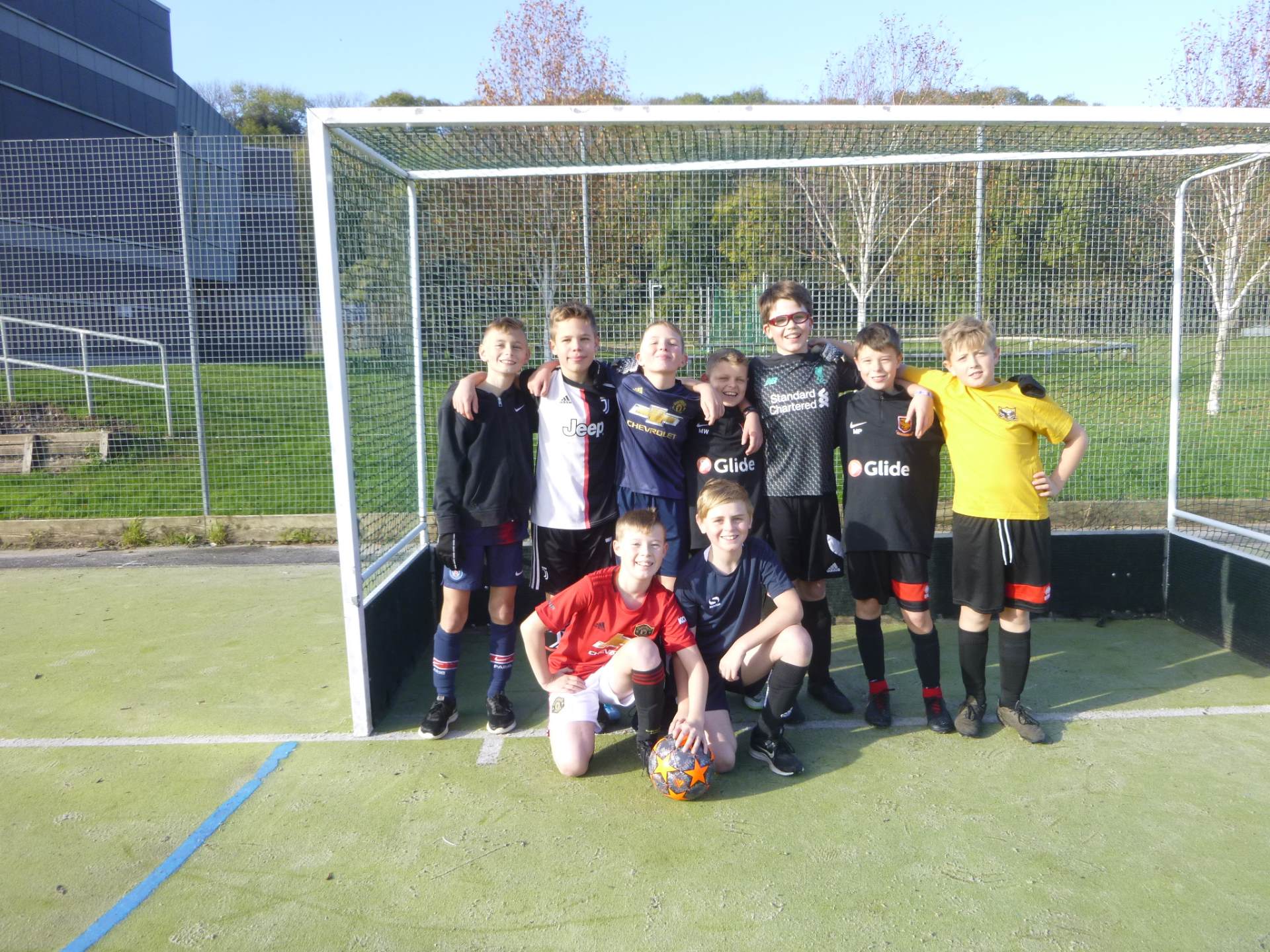 25th October 2019 - Harvest Festival
We had a wonderful Harvest Festival celebration, with each year group performing their show piece. For example; Year 3 read some beautiful prayers and Year 6 and Year 4 showcased their rap/song writing skills and performed their own written work to music. Each year group had sent masses of produce to the hall for our harvest display and a representative from Clevedon Foodbank explained to us who our donations would be helping.
24th October 2019 - House Pumpkin Carving Competition!
Thank you SO much for all the splendid carved pumpkins –we had well over 100 entries! The winners and runners-up were notified during our Celebration assembly and received a small prize. All entrants received a house point–well done to all. A special 'thank you' to the house teams who organised the competition, made the posters, came in early to help set up and gave up part of their lunchtime to judge the entries –a VERY tricky job!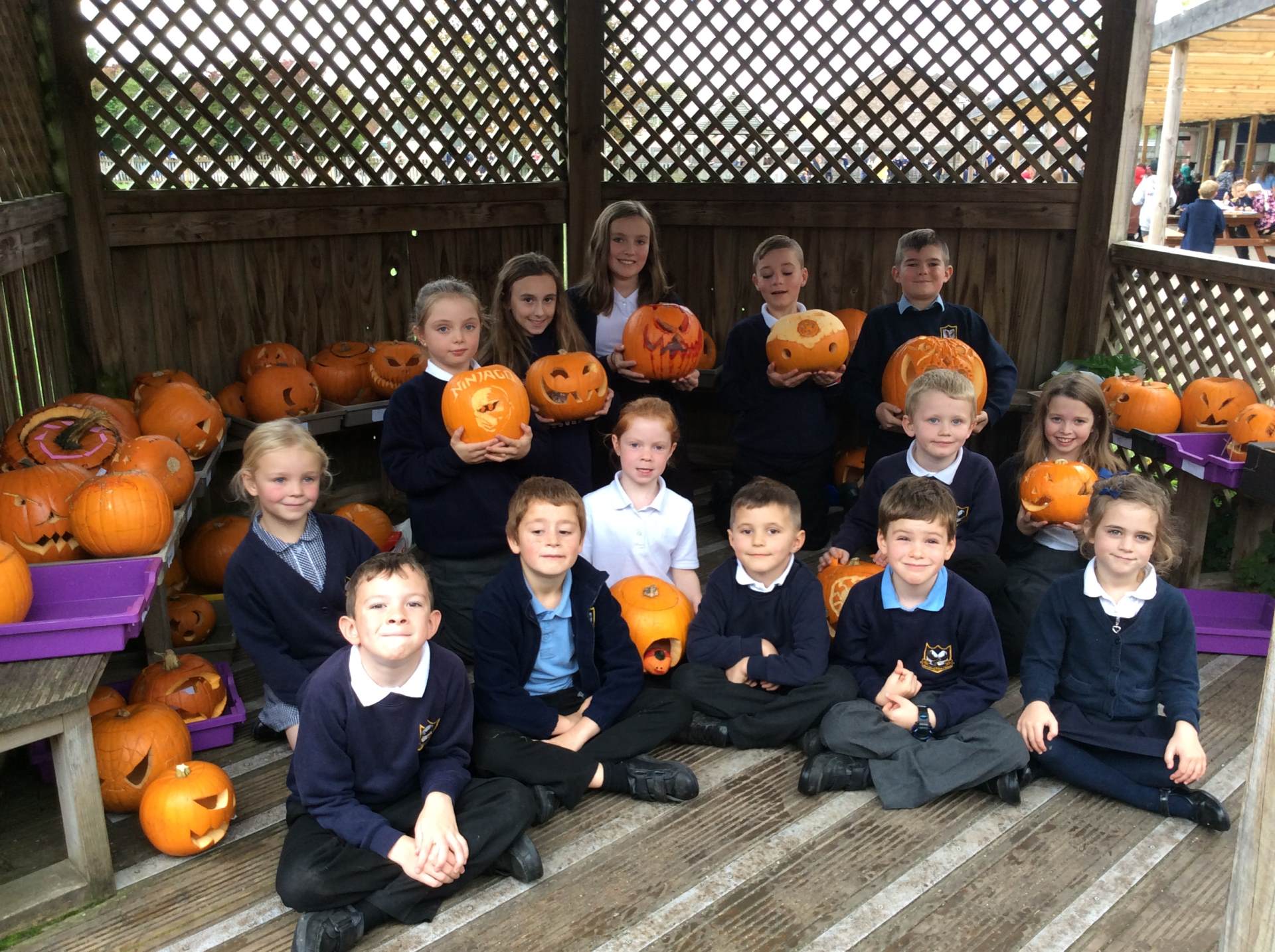 11th October 2019 - Birdseye Runner Up!
Aurelia was presented with a prize for her and all of her year group - PEAS! She had entered a competition at the end of her time in Year 4 where she had to design an invention to encourage people to eat more vegetables. They loved her 'Vegetron' design and thought her ideas were innovative. Well done Aurelia!
27th September 2019 - Library Summer Reading Challenge!
The staff at Clevedon Library sent us our certificate and said "It has been lovely to see children from your school and their families in our library taking part in Space Chase, Summer Reading Challenge 2019. They have enjoyed choosing books and reading for pleasure. Thank you for your school's support." Another great summer of reading for our children. We are so proud of all of them!
16th - 20th September 2019 - Wheelchair Basketball
As part of our introduction to term 1, we have been looking at the idea that there are no barriers for anyone. We have looked at the space race and the para-olympics and what has motivated individuals here. To enrich this understanding last week, every child was given the opportunity to play wheelchair basketball with Nova Sports. It was a tremendous success as it was such fun to play. It also enabled all our children to compete in a real para-olympic sport. Alex form Nova Sport was so impressed with our children that he emailed back and said: "All children played in the right spirit, with fantastic values of courage (to even sit in a wheelchair in the first place), teamwork (to stop the opposition), perseverance (to continue in the face of challenges), and support (from the deafening crowd watching from the side).At some point children lost the game they played in. Yet not a single student, and for emphasis I'll repeat, not a single student got upset, was bitter, refused to join in, or cried. This is quite exceptional, and against the odds of having 340 young children take part in physical activity."
We are so proud of our children for living up to the values our school.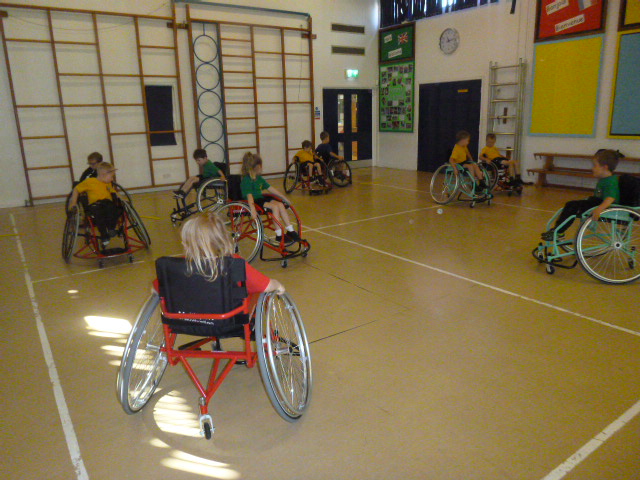 13th September 2019 - Roald Dahl Day
The whole school gathered for our annual Roald Dahl parade! The rest of the day was spent doing Roald Dahl inspired activities throughout each year group.
4th-6th September 2019
During our first three days, our children investigated a mini topic - There are no barriers. They explored this through the Space Race, inspirational women and the Para-Olympics, finding out about how teams and individuals have overcome barriers. We shared all our findings at an exhibition in our hall and looked at how the 5Cs can help us all overcome barriers. Shortly, all of our children will be able to experience wheelchair basketball in our school. This will help them better understand some of the issues around disability and the successes of the Para-Olympics.
4th September 2019 - McDonalds Responds to Pupil
Chloe wrote to McDonald's independently, driven by the work we have done on plastics and their environmental impact. Well done Chloe! Clearly your letter has had positive results. It just goes to show if we all collaborate we can all make a difference.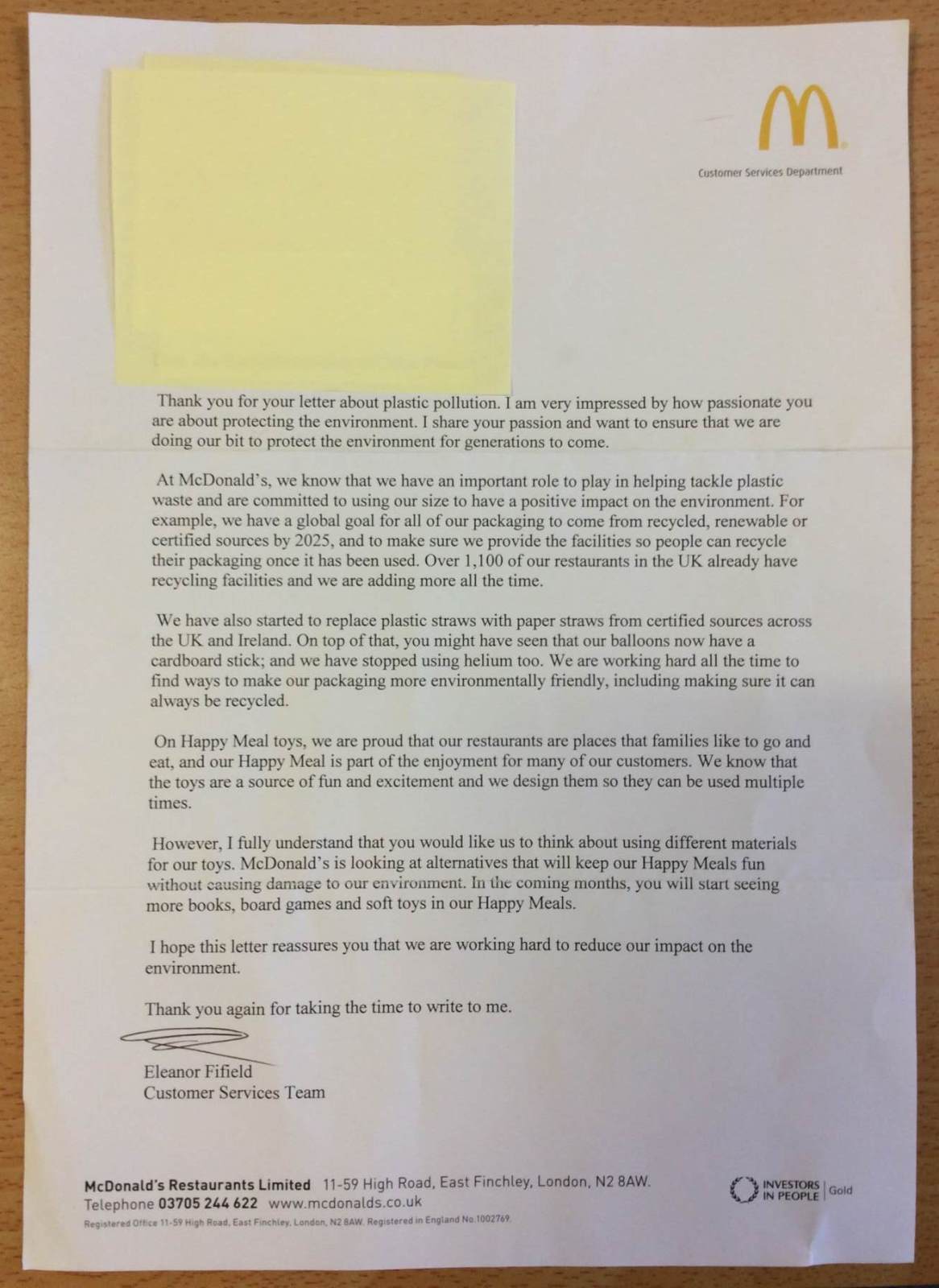 2018 - 2019
5th July 2019 - Clevedon Cluster Choir 2019
Our Year 3 and Year 4 children attended the Queens Square cluster choir event today. The children did an amazing job with all the songs and it was lovely to have the Clevedon schools singing together. Thank you to all who attended and also all who helped our children learn the songs!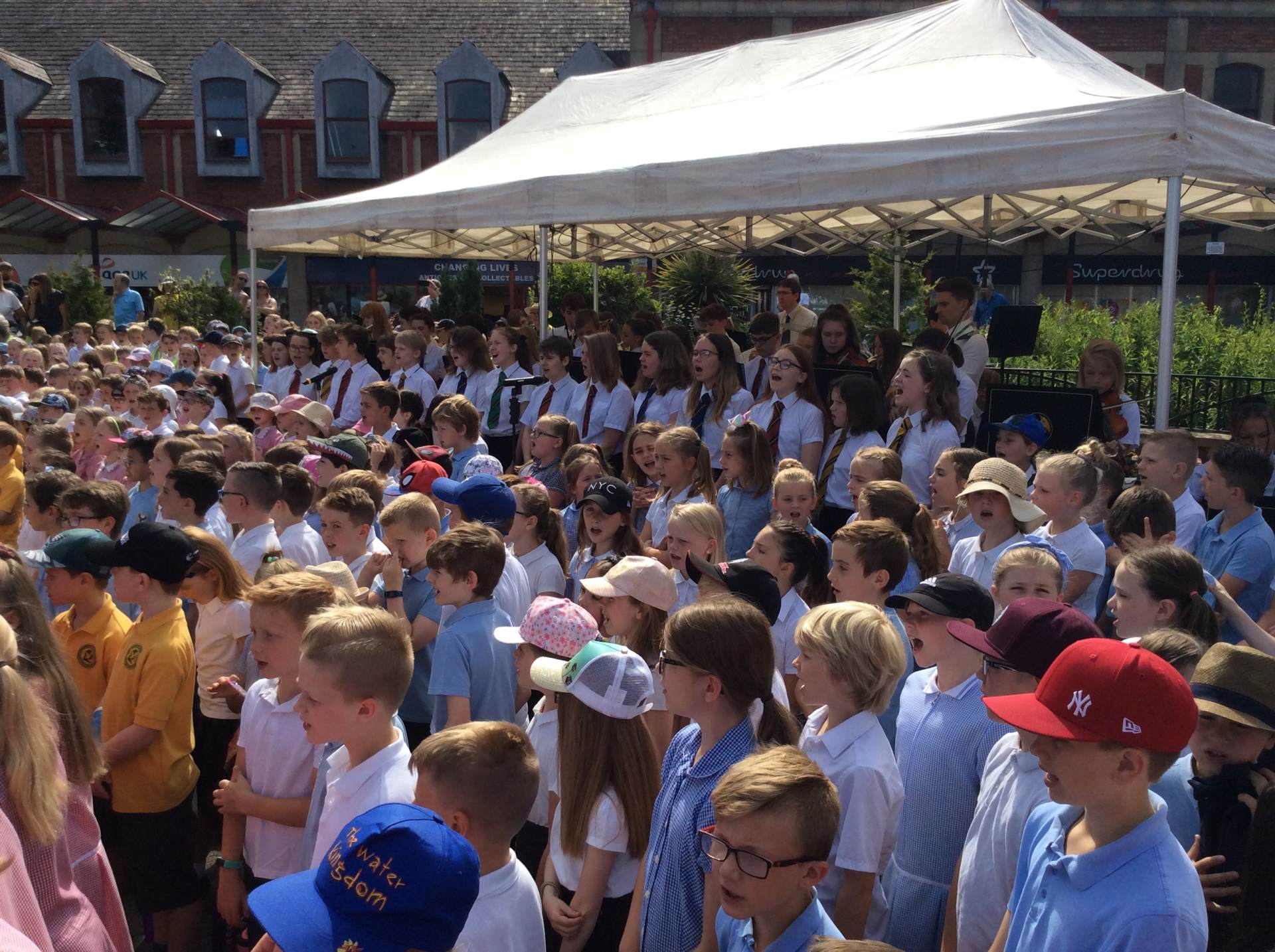 5th July 2019 - Summer Reading Challenge Launch!
Summer Reading Challenge is coming soon. The children were informed about this exciting event today during assembly.
"Get ready for an out of world adventure at your library this summer! It's free! Join in from 13th July to 7th September. Come along to Clevedon library and sign up to receive your Space Chase mission folder. Read six books over the summer holidays and collect smelly stickers which will help you find the aliens and save the missing books. If you finish the challenge you get a medal and a chance to win an exciting prize in the prize draw. Free craft and fun activities for all the family."
Clevedon Library is open from 9.30am – 5pm Monday, Tuesday and Friday and on Saturdays from 9.30am – 1pm (closed Wednesdays and Thursdays)
For more information contact Clevedon Library 01934 426 020 clevedon.library@n-somerset.gov.uk 37 Old Church Road (opposite the Curzon)
2nd July 2019 - Pip Jones Visit
Pip held assemblies across the day for all of our children to enjoy. She read extracts from her books, dressed up children (and staff) as 'Piggy' and she answered numerous questions about her life as an author. All of the children and staff were buzzing after these interactive, interesting and informative assemblies. Books on the Hill provided copies of Pip's books for children to buy and get signed - children who already had copies of her book were also able to get them signed. A very successful visit indeed! Thank you Pip!
1st-5th July 2019 - Court House Charity Week
Court house had a fantastic charity week (1st to 5th July 2019) and want to say a huge thank everyone in the school community for their support with all the fund raising activities!
The week started with a visit from 8 PAT (Pets as Therapy) dogs and we learnt how these patient dogs help people in many different ways. There was an opportunity for all the children to meet the PAT dogs afterwards, have a cuddle and ask questions of their owners.
Every lunchtime the Court House captains (Billy, Abbie, Molly and Ashton) ran some dog themed games in the Reading Haven; guess the name of the fluffy dog, guess the number of dog biscuits in the jar, find the spotty dog and pin the tail on the dog! The winner of the fluffy dog was Isabella (Year 1) who correctly guessed the name 'Rocker' and the prize for the correct number of dog biscuits in the jar was shared by Madison (Year 2) and Charlie (Year 3) who got it right with 99!
Wednesday morning was the 'sponsored spotty dog-a-thon' with the whole school taking part in a dog themed exercise class to doggy tunes! Everyone worked really hard under the watchful eye of Ava, the Court House dog who returned to school after recovering from the operation on her cruciate ligament.
On Thursday after school, we hosted 2 film evenings with children enjoying 101 Dalmatians and Bolt. Plenty of tuck shop sweets and crisps were consumed and everyone had a fabulous time – the children's behaviour was exemplary and we were very proud of them!
On Friday, we had a dress down day with many dressing up as dogs – there were some amazing costumes! Many entered the dog themed cake baking competition which was judged by the House Captains – a tough job which involved tasting the cakes too! Winners were announced in assembly and prizes awarded to the top 3 in 'Reception and Key Stage 1' and 'Key stage 2'.
1st place prizes – Elliot (Year 1) and Ellie (Year 6)
2nd place prizes - Megan (Year 1) and Harry (Year 3)
3rd place prizes – Tegan (Reception) and Ruby (Year 3)
The cakes were then sold after school (thank you to the HSA for their help with this) and many delicious feasts were had!
We all thoroughly enjoyed our fund raising week and will let you know how much we raised for Pets as Therapy as soon as possible. This donation will help fund training for more PAT dogs to visit children in school as part of the 'Read to Dogs' scheme, therapy dogs for hospital and hospice visits, medical assistance dogs and help raise awareness of the positive impact dogs can have on our lives. Thank to everyone for their support throughout the week!
27th June 2019 - French Fun Day!
Everyone at Mary Elton Primary school enjoyed our French Fun Day on Thursday 28th June. Celebrating our international school links, we saw photos and sang songs about the carnivals in Nice and Menton. Inspired by the magnificent carnival floats and displays made of oranges and lemons in Menton, some of our creative pupils made collages using natural materials. They showed them off proudly to the whole school.
The day was then filled with a busy rotation of French games, some of which had been taught to us by visiting teachers from Reunion Island and Nice. Following the theme of Film, from this year's carnival in Nice, the children were happy to sit back and enjoy watching 'Ratatouille', taking in some of the sights of Paris as they did. Everyone agreed it was a thoroughly enjoyable day, celebrating French language and culture and international friendship.
Clevedon Pier Art Competition - Winners
Mary Elton have many talented, creative children! We have won many awards in the Clevedon Pier Art Competition. Alice, Sophia and Harlee in Year 3 were group winners and Hebe, Izzy and Grace in Year 6 won a commended award. Whole class projects from Reception, Year One, Year Four and Year Five were also winners in this competition!
The artwork will be showcased in the Porthole Room 'Celebration Showcase' exhibition 20th – 28th July 2019 for all to see. The children listed above are also invited to a private view and celebration event on Friday 19th July between 6.00 -7.30 pm. These children will have already received an invitation and are asked to let Abbie Edbrooke (abbieedbrooke@clevedonpier.com) know if you would like to attend. Well done Mary Elton!
26th June 2019 - Y1/Y2 Sports Day
Thanks to everyone who came along and supported the children. Well done to all the children for demonstrating perseverance, enthusiasm and team spirit!
24th June 2019 - Y3/Y4 Sports Day
Not a thunderstorm in sight! Year 3 and Year 4 showcased how courageous and collaborative they are with their sports day.
20th June 2019 - Y5/Y6 Sports Day
Year 5 and Year 6 had a great morning for their sports day. Everyone showed off their sporting skills and the rain even held off!
29th April - 3rd May 2019 - Triangle Charity Week
Triangle house organised 4 events across the week to raise money for Victa. A decorate "Oscar", Billy's buddy dog, in rainbow colours, competition, an after school sale of books, DVDs and toys, a sponsored blind-folded obstacle course and a dress down day, wearing all the colours of the rainbow.
It has been an amazing week of fund raising. Particular thanks goes to Tom, Chris and Colin who ran the sponsored event and house captains and helpers, who ran the sale everyday. Tom ,Chris and Colin also ran in the London Marathon last weekend!! Chris was an inspiration to the children, saying that being blind was an inconvenience and that he did not let it limit what he wanted to achieve in life. Congratulations everyone.
28th March 2019 - STEM Final
Mary Elton children were part of 200 children that took part in the STEM Challenge final at the Will Memorial Building in Bristol. Children competed with birds on a wire they had made that were able to pick up metallic fish form a sea of plastic debris. This is part of a project many schools are working to raise awareness of the issue of plastic in our oceans. The awards were sponsored by Hydro Internal of Clevedon. Beatrix, a representative of the company, gave out the awards. Professor Alice Roberts kindly helped give the awards out too.
18th - 22nd March 2019 - STEM Week
STEM week was a great success. Children across the school learnt about the issue of plastic in the ocean and took actions to help, such as writing to MPs, learning a song about the impact of plastic and planning beach cleans for later in the year. Scientists and engineers came in to talk to the children about the problem and encouraged their enthusiasm. To help reinforce the message our children designed sea birds, that could 'fly' down a wire, and with its magnetic beak pick up paper clipped fish out of a 'sea' of plastic. Model puffins, gannets and albatrosses could be seen swooping in classrooms, corridors and in the assembly hall. To quote some children in Year 4: '"we enjoyed planning , making and competing in a school challenge, especially with all of us in the hall together with a huge wire that went across the hall - the birds went miles.! It was great to be able to reuse things to make our models and this helped us to show that you must throw things away properly so that birds are not harmed. We are also proud of our selves because this project came from us - it was our idea - the idea of the whole school - yes we are achieving a lot."
10th - 23rd March - Reunion Island Visitors
International education was greatly enhanced at Mary Elton and All Saints East Clevedon Primary schools, with a visit from two teachers from Reunion Island. Work-shadowing for two weeks, Hélène and Valérie learnt about the wide variety of teaching and learning styles that are commonplace within the schools. They loved the focus on learning styles as well as on content. They remarked on the excellent use that was made of online games in lessons and they were also impressed by the high level of French language proficiency among the pupils. The visitors showed photos of the landscape, vegetation and animal life on their island, which inspired staff and pupils alike to plan a return visit. The pupils were especially excited by the active volcano, with some planning to become volcanologists of the future. Hélène and Valérie returned to their island, excited to introduce a great many new strategies into their classrooms and to replicate the STEM project they helped with here, to highlight the environmental damage being done by humans across the world who allow waste plastic to enter the oceans.
13th March 2019 - Sam Gayton Visit
Years 3, 4, 5 and 6 were treated to a visit from the author Sam Gayton. Sam is a hugely entertaining performer and he enthralled all of KS2 with readings from his latest book, "The Last Zoo". He also talked about how he generates ideas for his stories using the question "What if?"
Books on the Hill from Clevedon put on a pop-up book shop and managed to sell all of the books they brought with them. Mary Elton Primary School is a member of The North Somerset group of the Federation of Children's Book Groups. Therefore, we are offered these opportunities at no cost to the school or children.
7th March 2019 - World Book Day
A fantastic array of characters and costumes around school today! We shared a story in a whole school assembly then each teacher had a small group of children from across the year groups in their classes sharing more stories!
25th February - 1st March 2019 - Arts Week
This week the whole school have been busy creative spiders! Mary Elton is entering the Clevedon Pier Arts Competition as part of North Somerset Arts week. The children created artwork from recycled materials and then showcased their 'rubbish' art in a pop up exhibition in the school hall on Friday afternoon. The children used their imagination to create outstanding art work and also reflected on the importance of looking after our planet. The children really took on board the message of: Reduce, Reuse and Recycle.
11th February 2019 - Art work displayed at local cinema!
One child from each class at Mary Elton, presented the collaborative painting they worked on with the artist Eleanor Whiteman, to the Curzon cinema this week. The painting is of a local soldier catching poppies on Clevedon pier and commemorates the centenary of WW1. The painting was kindly framed by Splash of Clevedon. The painting has been hung in the Oak room in the cinema (the cafe area), where it can be seen by the public. It has been great for our children to have been able to work with our wider community and then present a piece of legacy artwork.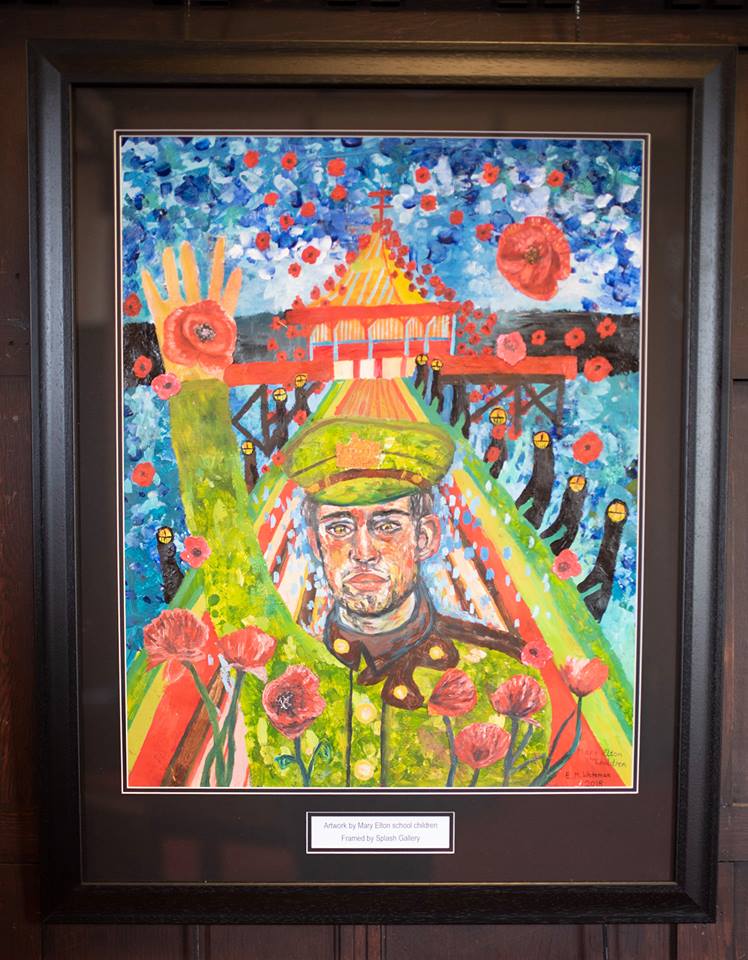 5th February 2019 - Safer Internet Day!
The whole school attended differentiated assemblies today - KS2 focussed on consent whilst KS1 discussed choices when online.
Each year group marked 'Safer Internet day' in their own way and produced some fantastic work that is now displayed in our ICT suite;
EYFS read 'digiduck' and discussed how the problem was solved. They drew what they use electronics for e.g. Ipad, phones etc then explained it to class teacher. Teachers checked in to see if they understood what to do if anything on electronics stuff bothered them and how/what they would do.
Year 1 read the story of 'Smartie the Penguin' and wrote some advice for him. The children thought about the different adults they would ask for help to keep safe when using technology.
Year 2 visited 'Hectors World' and found out about E-Safety Heroes. They thought about who they could go to if we weren't sure about a message or a question online and talked about trusted adults in school and at home. We made illustrations to show what we had learned.
Year 3 likened the internet to their power of reading text 'Into the Forest'. They discussed the hidden dangers of the forest and of being online and how we need to protect ourselves. For Year 3, this was keeping our personal information safe, the importance of asking for help and telling our grown ups. In groups we considered different scenarios and how we would react. We then talked through as a whole class the appropriate responses.
Year 4 used the 'Thinkuknow 8-10s' website to locate advice and support pages. They were able to distinguish between safe and unsafe behaviours online. They then were able to articulate advice on how children can stay safe online - with a group taking one page each to create an informative poster. The different categories were; Play, Like, Share, Chat, Lock and Explore. In groups, they also devised an e-Safety quiz aimed at different aged children.
Year 5 discussed how they can build a good reputation in life and then, of course, electronically! They had a helpful discussion on what was and was not appropriate to share online and made posters to demonstrate our understanding and to advise others. They can't wait to see them displayed!
In Year 6, they had a child-led discussion about what safer internet day was about and why it is important. They discussed lots of different scenarios that children thought might be worrying and what they could do to stay safe. They shared lots of ideas and all were very engaged. They then worked in pairs to produce posters for other children to give tips to keep themselves safe online.
In addition, a small group of Year 5 and Year 6 children attended Clevedon School in the afternoon to work with their digital leaders on creating informative clips about e-Safety for their schools.
17th - 20th December 2018 - KS2 Christmas Carol Services
KS2 enjoyed visiting St Andrew's Church this week to participate in our annual carol services. Using a blend of carols, songs, readings and poems, we retold the Christmas story and built a tableau of characters from it. Our teachers were proud of our respectful behaviour inside the church and the confidence we showed when speaking and singing out. We are grateful to all those who supported the children in learning lines, tunes and to those who provided costumes. Thanks also to Rev Cranshaw and the team at St Andrew's for making us feel so welcome.
13th December 2018 - Visit to Hello Pace
Pace (www.hellopace.com) welcomed our School Councillors to see their new prospectus being designed & produced! The children had a fun and informative visit and the prospectus looks great!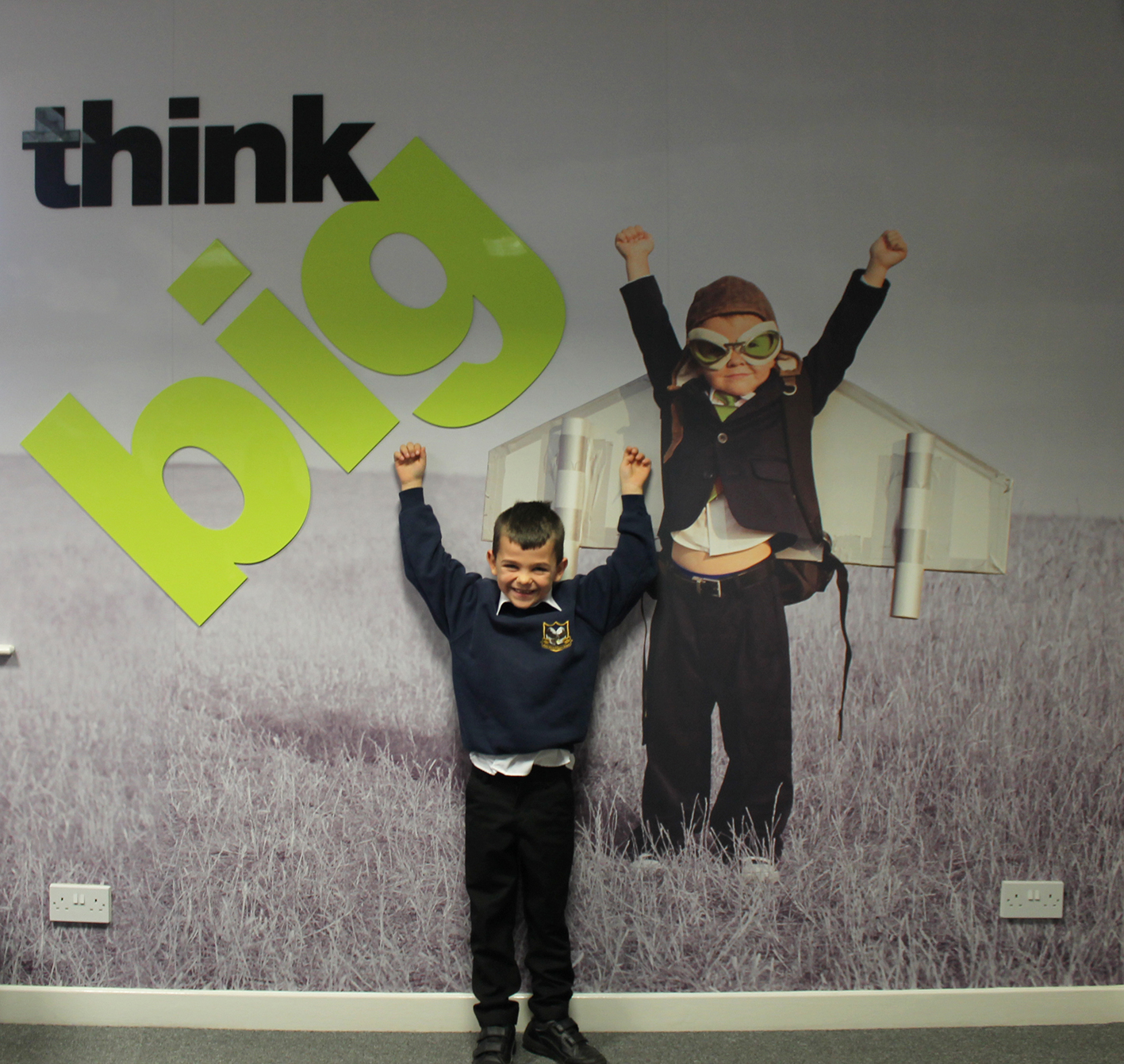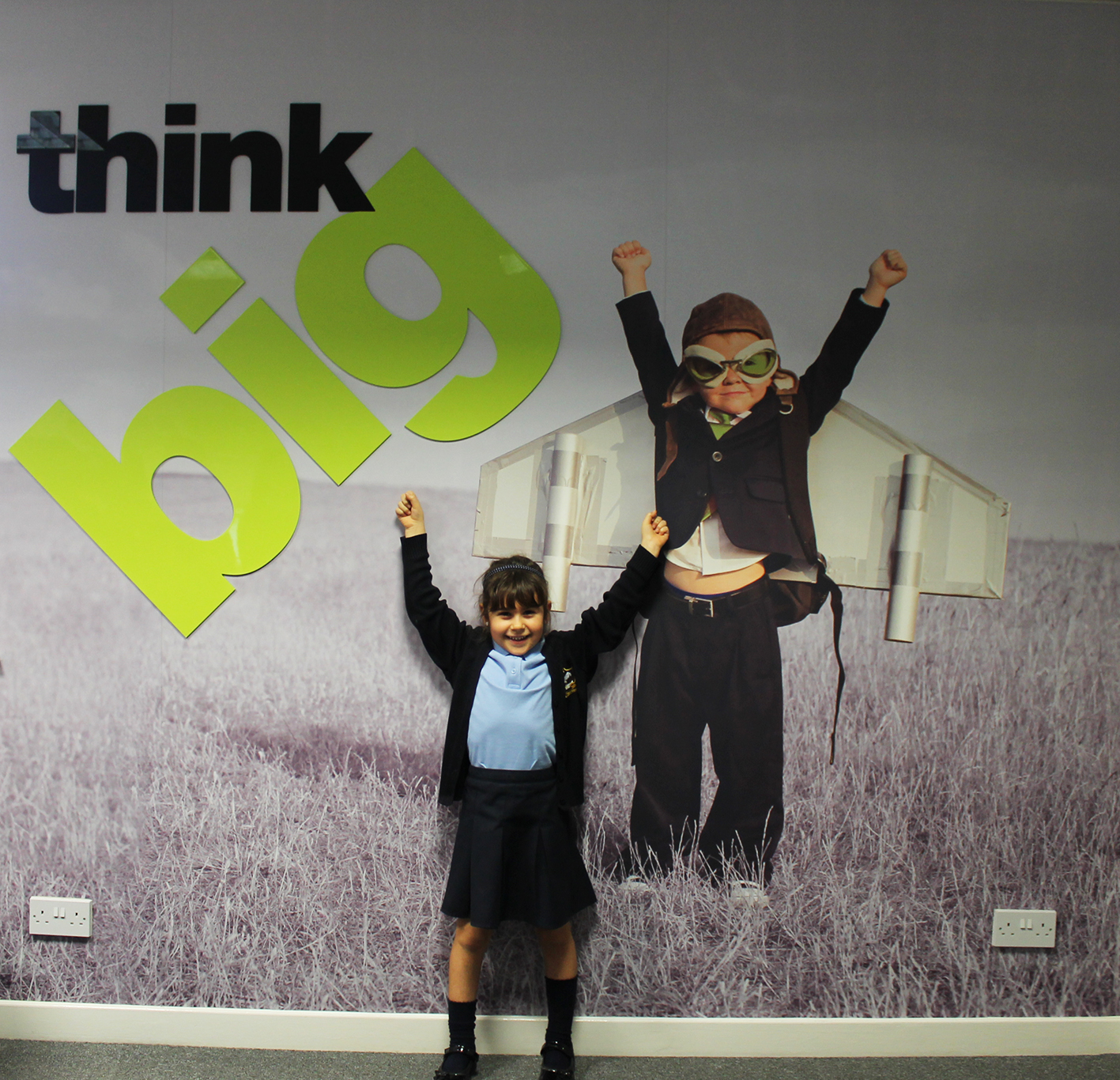 26th November 2018 - Science Summit 2018
The 2018 Children's National STEM Summit was held at The Double Tree in Congresbury. Over 100 children from 21 schools came to discuss global and local issues that needed STEM solutions. There was a partner Summit being held at Hilderthorpe. The children were able to communicate via video link between the 2 sites. They were supported by representatives from Hydro International, Bristol Airports, Edwards and Nissan. Children learnt about the importance of collaboration, how the world is inter-linked and the importance of science to ensure we all have a sustainable future. The children from both locations have decided to work on projects together to help reduce the impact of plastic in the Oceans. They feel it is their generation that really needs to tackle this problem and they plan to work together to make a difference.
19-22 November 2018 - Pier House Charity Week!
Pier house held their first ever charity week in November raising funds for Bristol Children's Hospital's 'Grand Appeal'.
Activities included designing and colouring their own Gromit, a lunchtime film club where we watched Wallace and Gromit films obviously! A 'Wrong Trousers Day' and challenging children and adults to walk along the 'Lego Brick Road!' A fun time was had by all and we raised over £1700!!
As Wallace would say, 'Not bad Gromit!'
16th November 2018 - House Dog Visit
We were lucky enough to be joined in assembly by all four of our house dogs! Jet for Curzon House, Coco for Pier House, Rocket for Triangle House and of course, Ava for Court House. The dogs even joined us outside for playtime.
15th November 2018 - Raise the Roof Singing Festival
Years 3 and 4 joined with children from All Saints and St Johns for our annual 'Raise the Roof' singing festival. The festival is run by Anne Clough from the Music Service and we all had a great time singing the songs we had learnt.
26th October 2018 - Harvest Festival
We enjoyed coming together as a whole school this morning to celebrate harvest. Songs, poems and prayers were performed by various year groups and it was especially good to be joined by our EYFS classes for their first ever assembly. Sue Reagan, from the Clevedon Foodbank, explained where the food would be going and Mr Hudd said it demonstrated our school moto of 'Achievement by Caring' in action. Thank you to all parents/carers for sending in such a generous amount of donations and to the children for an excellent celebration assembly.
25th October 2018 - Summer Maths Challenge Reward!
All of the children that participated in the summer maths challenge, set by Mr Flory, had a great time celebrating at the maths challenge party! Leon in Year 4, was the overall winner with an incredible 34 hours of maths completed over the summer holidays! Well done!
24th October 2018 - Barnacle Buoys Visit
The Barnacle Buoys came to Mary Elton and entertained Year One and Year Two. The Barnacle Buoys is a group of a cappella sea shanty singers based in North Somerset who give up their time freely to entertain audiences and raise money for chosen charities. The children loved listening and singing along to the sea shanties.
2nd October 2018 - Mary Elton Summer Reading Challenge Tea Party.
The best party in town!
To encourage children in our school to continue reading through the summer, we set them a challenge. Could they read EVERY day through the summer? It would seem that over 100 of them could indeed!
To celebrate their love of reading, books and reading achievement over the holiday, we invited them to a tea party where a copious amount of cake and squash was consumed
"There is a lot of research which shows that children who don't read over the long summer holiday face significant reading loss, which we really notice when they return in September. By providing this challenge we hoped to minimise the summer slump and keep our children reading and learning".
This year's challenge is just the beginning as we are aiming to have even more children at the next party!
1st October 2018 - Mischief Makers Library Summer Reading Challenge!
Children who completed this challenge brought in their certificates for celebration in assembly today.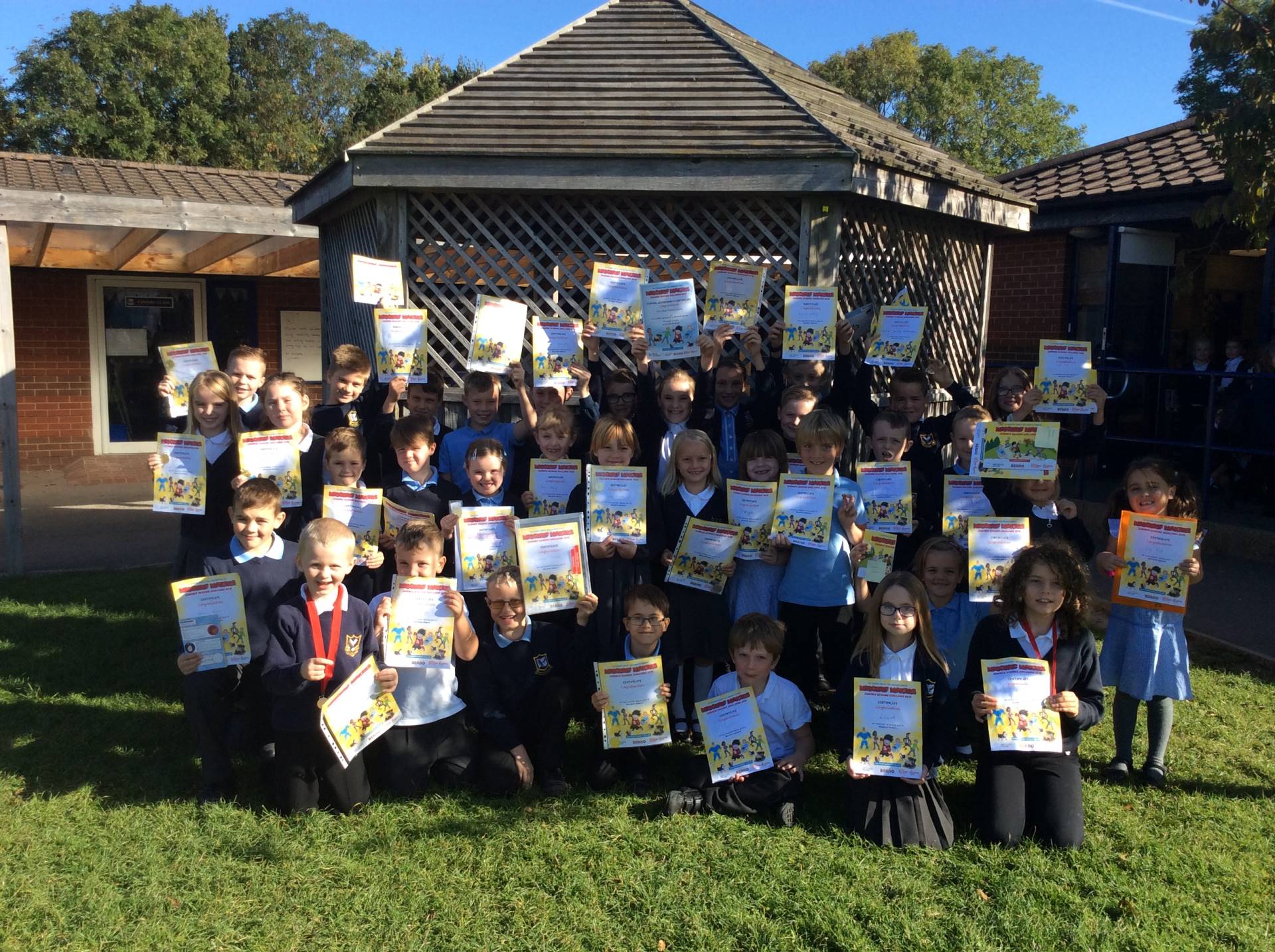 18th-21st September 2018 - Visit from Peter!
Peter, from our link school in Tanzania, visited us last week as part of reciprocal international curriculum project. The school is called Kikoboga school, which is the name of our KS2 building, and is inside Mikumi National Park in the south of the country. The link is now 10 years old. Our children learnt about global issues through our link and explored Tanzania's rich culture, its geography, religions and language. We have engaged in science projects that look at disability, buildings and space. Through this link we can enrich the curriculum our children experience and make it come alive, while enabling them to participate in real world solutions. Peter spent time with each class and answered many questions the children had. He taught us playground games too! We shared our new 5C learning values with Peter and he has taken them with him to share with the staff/children at his school. During Peter's visit, Mr Hudd announced that our main building will be now be named 'Mikumi' in honour of our continued link. Peter is looking forward to our teachers visiting him and supporting a new project on the problems of plastic in our oceans. We said before he left "hakuna matata, we'll see you in 2019".
First Week Back - Mark Making
In the first week back, our children have been looking at the learning dispositions, we all need to help us move our learning forward. We celebrated what we have learnt with an exhibition in the hall.
We believe these are the 5 words that describe the skills that our children need to draw on to achieve their best: courageous, collaborative, a critical thinker, curious and creative. We call these the 5Cs. At Mary Elton we represent these through 5 animals: the owl, lion, monkey, spider and mongoose. Do you know which animal goes with each disposition? Can you think of a country beginning with T where all these animals are all found?
These 5 animals have been designed by our children in collaboration with That Copy Shop - inspired by Tanzanian Tinga-Tinga paintings. You will see their stylised creations around the school and our children referring to them, when they talk about their learning.
2017 - 2018
Papercut Animation Project
A group of talented Mary Elton children from years 4 and 5 have worked together, since March this year, to create a fantastic papercut animation. The children were set the brief to create a papercut animation that evoked an emotion from their audience. This was new to all of us but, with guidance from Mr Roberts and Mr Nelson from Clevedon School, we created something meaningful and that fit the brief set. Igi, Hebe, Elif and Filip worked extremely hard with Miss Brown on the whole process from story board to scene/character creation and finally, filming and deciding on the sound effects/music. We invite you to watch our video below and we wonder if you can work out which emotions our group went for … ?
Nice Carnival - 9th July 2018
Mary Elton Primary School's international links were celebrated with a colourful and creative carnival. Inspired by the annual carnival in Nice, where one of the school's link schools is situated, the theme of this year's carnival was Space. Aliens, astronauts, star-trekkers and even some rock and roll dancers paraded around the school field, in sunshine that made everyone feel that like they had travelled to the south of France. The school was grateful to ASDA for the loan of several trolleys that were used as the base for the carnival floats. Following the parade, the whole school sang French songs, enjoyed carnival doughnuts and played traditional French playground games. Thank you to Mrs Miller who organised and led the whole event!
Sports Days 2018
On a few scorching days, the children still managed to excel at the various events in their Sports Day! Whether thundering down the track or balancing a very wobbly "egg" on a spoon, everyone managed to participate with enthusiasm. (We thought we even saw flames coming out from behind some of the children due to the speed they were going!) Well done and thank you to the parents for all the support!
Summer Enrichment at Clevedon School - 3rd July 2018
10 of our talented young mathematicians had the opportunity to work collaboratively with similar ability students from other local primary schools to solve a Murder Mystery! The children had to use all their problem solving skills to crack codes and solve puzzles in order to find 'Whodunnit!' whilst making new friendships along the way. Everyone agreed they had a great time and Jacob and Kieran were even in the winning team!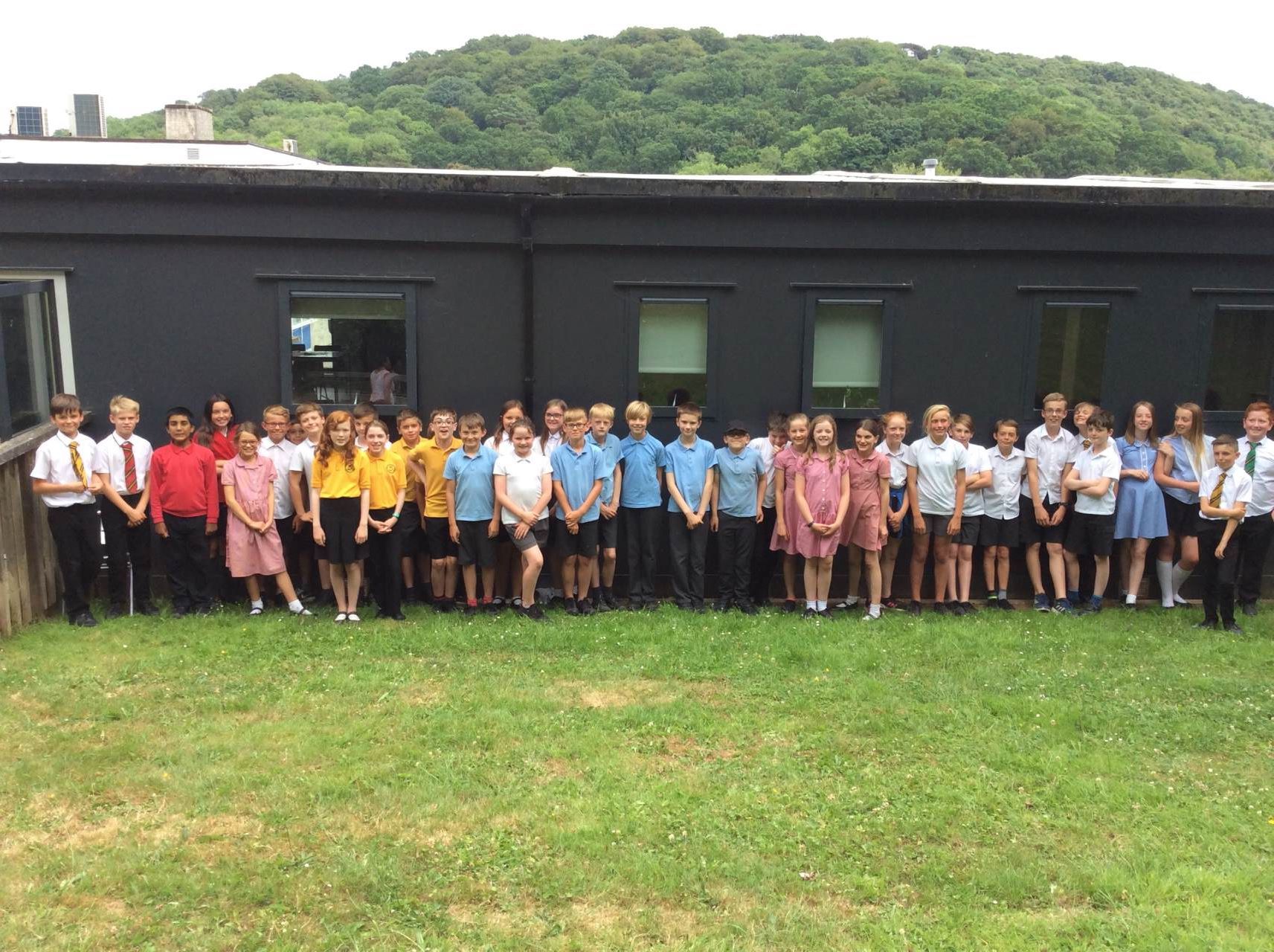 Queen Square Cluster Choir Event - 29th June 2018
Years 3 and 4 took part in the cluster choir event. They had been practising hard after initial direction from Ms Murray (Clevedon School) and did Mary Elton proud! They sang their hearts out with renditions of 'This is me' from the Greatest Showman, 'All of me' by John Legend and 'How far I'll go' from Moana to name a few. The crowd were all shouting "encore" by the end! Check out the video and photos below.
Jim Cole Visit - 13th June 2018
The children at Mary Elton Primary School had a fun, energetic and inspiring day with running and fitness expert Jim Cole. Jim began the day sharing inspiring stories about his running experiences and the benefits of daily exercise to the whole school. To keep the excitement going, Jim encouraged all the students (and staff) to go on a run around the school playground. The children (and some of the staff) absolutely loved running and encouraging others to do their best. Jim continued his day visiting each year group telling stories and answering questions. The children and staff really enjoyed Jim's visit. Check out Jim's website for more information.
World Down Syndrome Day - 21st March 2018
We celebrated World Down Syndrome day by taking part in 'Lots of Socks'! We wore lots of socks, colourful socks, odd socks and three socks (to represent the extra chromosome). Year 4 created chromosome chains with the extra special chromosome at the end.
Big Bang Fair - 14th March 2018
KS2 attended The Big Bang UK Young Scientists & Engineers Fair which is the largest celebration of science, technology, engineering and maths (STEM) for young people in the UK.
The aim was to show young people the exciting and rewarding opportunities out there for them with the right experience and qualifications, by bringing classroom learning to life.
The range of experiences included a voyage of discovery of virtual reality, medicine, marine biology, film and TV, space exploration, explosive chemistry, crime-solving, robots, computer coding, microscopic bugs, giant trucks and more.
The children had the opportunity to watch high-octane theatre shows, visit and take part in over 150 interactive stands and workshops as well as get involved in inspiring science and engineering projects.
It is safe to say that our KS2 children were enthused by the trip with many commenting that they have a love for Science that they didn't know they had before.
Hedgehog STEM Challenge - March 2018
The plan is to involve as many schools as possible, to encourage parents, neighbours and the community to ensure there is a gap in our garden fences to enable hedgehogs to continue to access garden habitats. Hedgehogs are in steep decline - fencing off of gardens is a major issues! See Burrington School's video posted on Newsround website for more information. Burrington School, Northleaze and Mary Elton are the main leaders in the programme.
To support the project our children have built buggies with child made hedgehogs inside and tested transporting them via elastic power through a model hole in a fence. The most accurate buggy in KS1 and KS2 will go to the final that is taking place on Thursday 15th March in the Victoria Rooms of Bristol University. 20 plus schools are taking part from across Somerset, Bristol and North Somerset.
We have camera traps to lend to families who think they now have hedgehogs using the gaps/holes in their fences. Video footage will provide us with evidence of impact. Schools from outside our group of 20 will potentially be able to access camera traps - so we will get video footage from across the country. Spring Watch want our video footage to show! Please see Mr Thurgur if you would like to borrow a camera trap.
The main learning points of the initiative are
- the importance of wildlife corridors to ensure species survive in our shrinking world (hedgehog corridors in this case)
- the importance and power of collaboration
- that children can see that they can impact on their world and make a positive contribution
Please see our gallery showing the work each year group has put into this project.