Year 1
Welcome to Year 1 2021-22 with Miss Molony, Mrs Banks, Mrs Hartnett-Fletcher and Miss Bird.
We would encourage you to keep an eye on these pages as we like to share aspects of the children's learning and experiences from Cherry and Beech classes.
2021-22
10th November 2021 - Post Office Trip
The Y1 children had a fantastic trip to the Post Office. They observed lots of different areas of the local community. The children spotted the supermarket, leisure centre, bus stops, church and the boatyard. This helped with the children's learning back in school, they drew a map of the local area. Everyone posted their letters and we even had a special talk from the lady at the post office informing us about the journey our letters will go on.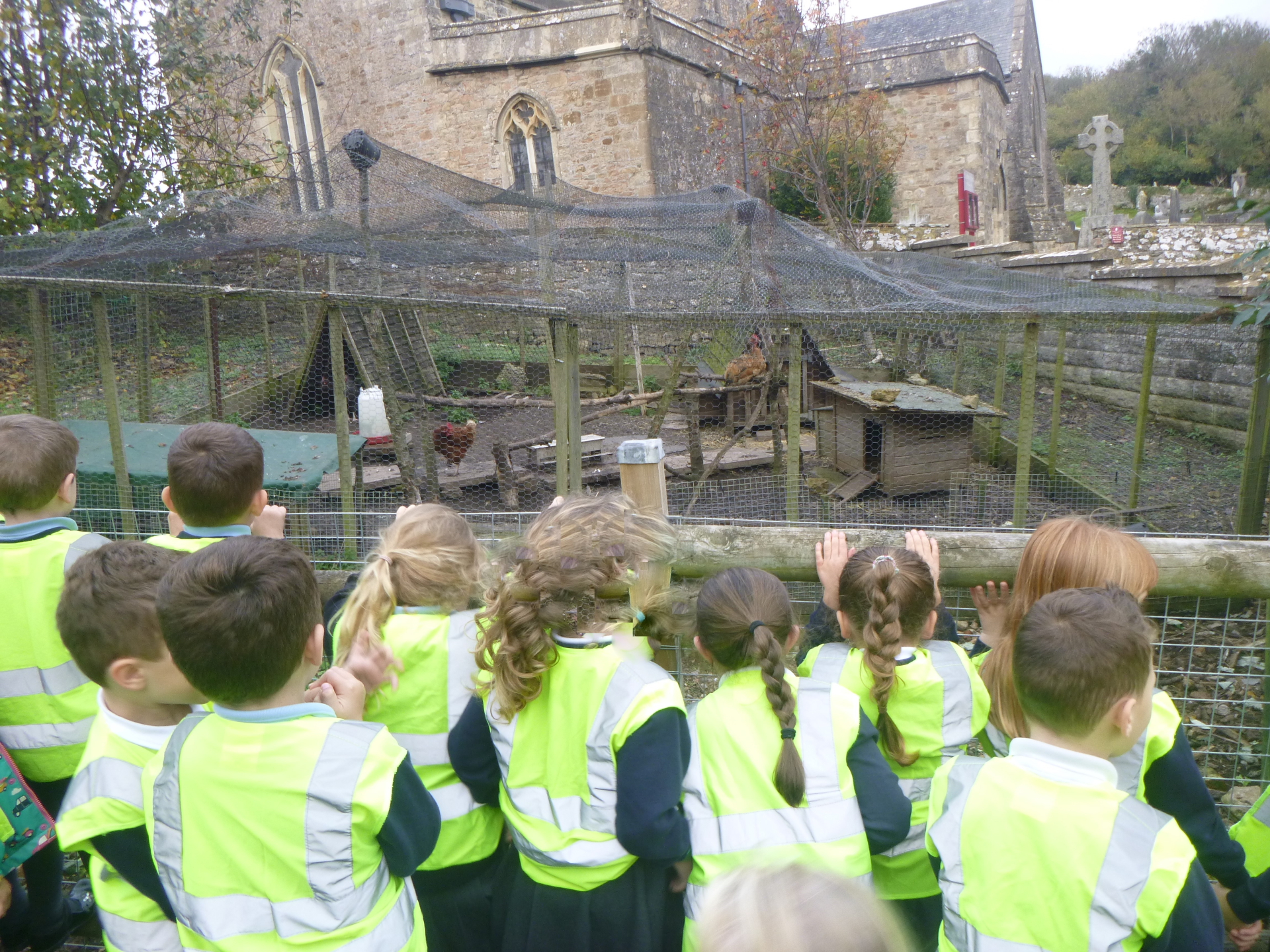 4th November 2021 - Tyntesfield Trip
The children had a fantastic day on their first ever trip to Tyntesfield. They were SO excited from the coach until the moment we returned to school. The children spotted lots of signs of Autumn including the changes in the trees and chill in the air. They created artwork out of the autumnal foliage they found along the way. A brilliant day for all!
11th October 2021 - DT Fabric Faces
Year 1 have been making fabric faces as part of our topic 'All About Me'. The children carefully observed their features in order to design their fabric face. They then used their sewing skills to put the different features together. The children evaluated the whole process and they have been put on display in the Y1 area. The children really enjoyed making these, the final result looked fantastic.
2020-21
25th June 2021
Year 1 have finished our 3 sports day sessions - we had track, field and 'special' olympic events. The children loved doing 'real' Olympic events like the (foam) javelin and the (bean-bag) shot putt, as well as long jump, hurdles, and relay races, amongst others.
The scores were incredibly close:
Curzon: 191
Triangle: 189
Pier: 187
Court: 176
24th May 2021 - Welly Rack!
Thank you so much to the HSA the Year 1 children LOVE their new welly rack! They spent Friday afternoon organising their wellies into classes. This will make it so much easier for the children to put their wellies on and off in a safe place. It looks fabulous too!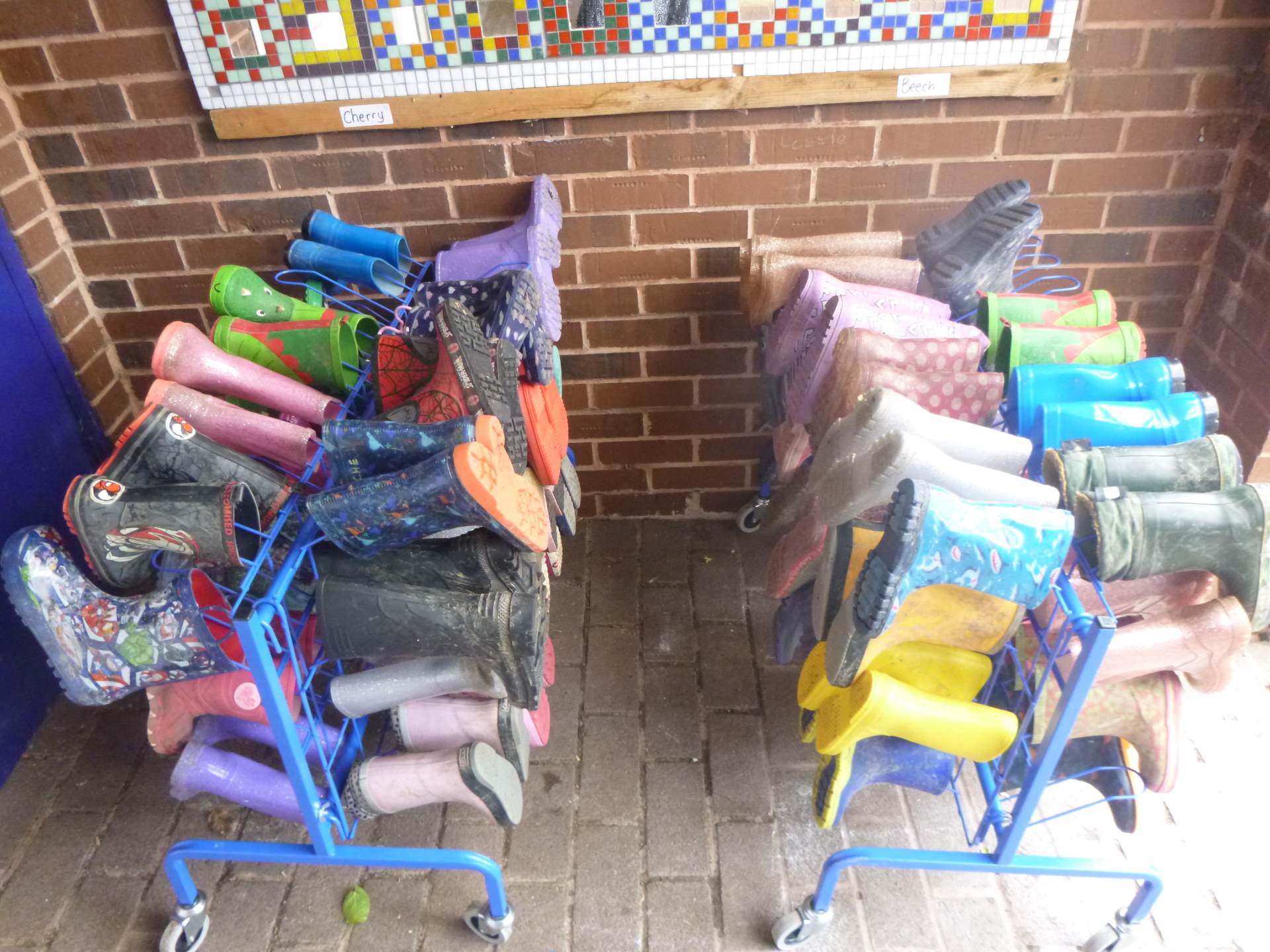 11th May 2021 - Castles Exhibition
Wow, what a great job the children have done of making their castles with moving parts. There were drawbridges moving up and down, doors and windows opening as well as flags hoisting and an occasional portcullis raising. Thank you to all the home helpers - the children couldn't have done it without you! We had an exhibition after school to share our amazing designs and finished castles with our grown-ups.
2020 2021 GALLERY
17th March 2021 - St Patrick's Day!
In Year 1, we celebrated St Patrick's Day! We wore green - the teachers all wore funny hats! We made shamrock shortbread, leprechaun hats, Irish flags and had lots of other St Patrick's Day fun. We even gave Irish dancing a go - Michael Flatley, watch out!!
12th March 2021 - First week back at school after remote learning!
In Year 1, we have enjoyed being back at school, working and playing with our friends.
19th January 2021 - Coding!
Year 1 enjoyed programming the Beebots and code-a-pillars, to travel around a maze on the carpet, which included bridges and tunnels. We also investigated which surface they like to travel on best - the blue carpet! We worked in partner pairs to think about directional language . . . we even made them dance!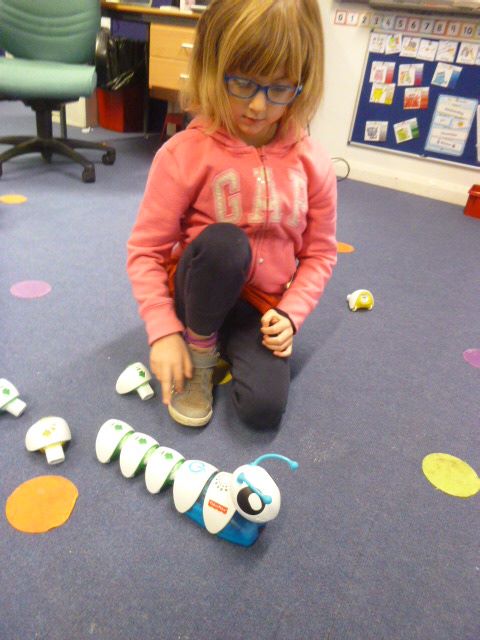 7th December 2020 - Christmas Activities!
The festivities are already in full flow in Year 1. The children have been busy writing letters to Santa this week. They had lots of questions to ask him about his magical work. We hope we're on the nice list! The children practised writing their address and we talked about how letters are delivered. Thank you to postman Mr Lewis, who came to collect our letters, he answered the children's questions about the journey their letters will embark on. The children have also been busy making Christingles and learning about their significance at Christmas time. Thank you to Tesco's for donating the components. They all looked fantastic!
17th November 2020 - Art
Year 1 created some beautiful natural art in forest school inspired by the British artist Richard Long.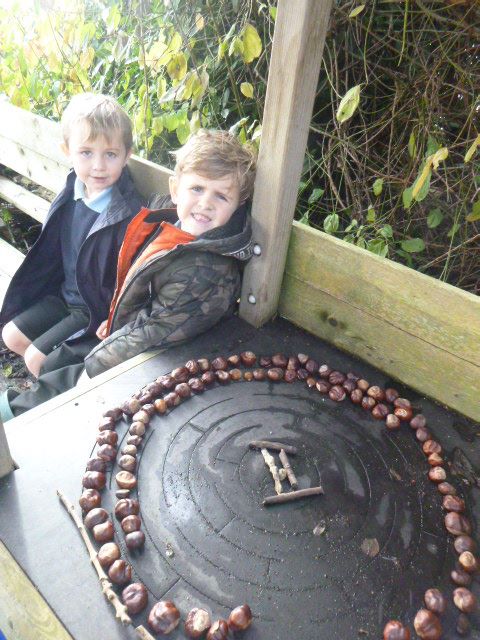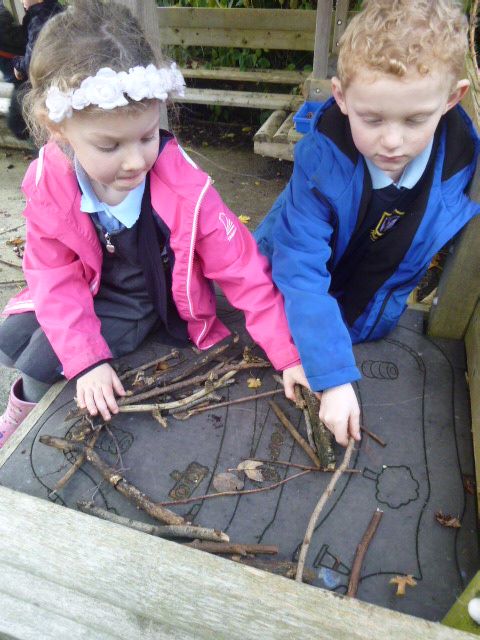 6th November 2020 - World Science Day!
Year 1 celebrated World Science day by having our very own Mad Scientist day. We all dressed up in lab coats and goggles ready to carry out some exciting experiments. We focused on exploring all about the body. The children demonstrated their expertise as mini opticians, doctors and dentists. We had a virtual visit from Dr Bailey from Bristol University, who explained all about her important work and answered our interesting questions. The children had a fantastic day, the particular favourite was the gooey table (jelly snot and spaghetti guts!).
W/C 12th October 2020 - Outdoor Teamwork
Last week, we were busy in our outdoor area. We had lots of fun working as a team to build the drainpipe waterfall! We used this to transport water from one bucket to another. Our mud kitchen has had lots orders this week. We've been practising our cooking skills ready for making soup this week. Our beans have started to spring to life, we can now see the roots sprouting out. We've been using our observational drawing skills, we looked at the different parts of the plants and discussed what they need to grow. We've been looking at lots of different types of seeds/ bulbs, we sorted them into groups and talked about their appearance.
28th September 2020 - Gardening!
Year 1 had a great time planting herbs, seeds, flower bulbs and vegetables. A huge thank you to Clevedon DIY who donated the soil and compost.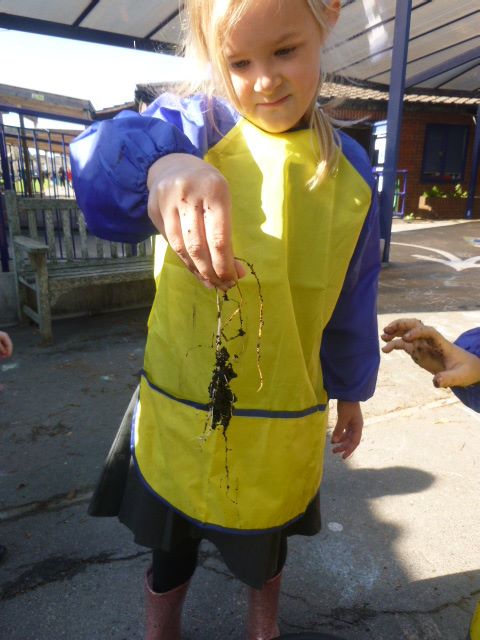 W/C 21st September 2020 - Autumn Investigations
In Year 1 we have been investigating the seasonal change from Summer to Autumn. We put on our wellies and enjoyed splashing in puddles. We went on an Autumn walk looking for signs of Autumn and collecting 'treasures'. Inspired by the book 'Leaf Man' we made pictures with our Autumn leaves and other treasures. We looked carefully at our leaves, doing rubbings and observational drawings.
14th-18th September 2020 - Settling in!
We have been very busy in Year 1, working on our 5Cs. We have all been courageous when we started in our new classes, finding out where all our 'things' went and how Year 1 'worked'. We are already experts and can come in every morning, change our books, put our drink and fruit away in the classroom tray, and hang up our coats in the cloakroom - we are so independent!
We have been working collaboratively to sort objects and using our critical thinking skills to think of different ways to sort them. We have done lots of 'busy learning' outside as the weather has been so lovely; we particularly enjoy wearing our wellies and getting creative in our wonderful new mud kitchen!
We LOVE IT in Year 1!
2019-20
6th January 2020 - Arctic Topic Launch
This week has been very exciting for Year 1. We started the new term by going into the school hall to find Miss Salt and Mrs Locke had built an igloo over night. Inside the igloo was lots of pictures of the Arctic and even an ice package. The ice package contained lots of questions that we need to answer by the end of Term 4. We are so excited! After exploring the igloo, we came back to our classrooms and were set the challenge of building our own igloos out of lego, stickle bricks and even sugar cubes!
20th November 2019 - Wedding
Year One have been very busy over the past few weeks planning and preparing their own wedding. This has really helped them think about our big question this term: 'How do we celebrate our journey through life?' Mrs Trott got married this summer but had not yet had a 'school wedding'. The children wrote lists of the things they needed and then set to work making everything. You name it, they made it - bunting, the cake, invitations, confetti, flowers and much more! They also made friendship bracelets to understand the symbol of a ring given during a Christian wedding. They children loved singing in the ceremony, eating cake and dancing at the party after the service. Mrs Locke and Miss Salt were so proud of how the children demonstrated all of the 5Cs they were given a special certificate in our celebration assembly. See below for photos and a video from the day;
14th October 2019 - Tractor Visit
We have had a special visitor to help us learn about Harvest. James and Tom Bardwell from Bardwell Contracting came in to talk to us all about how he prepares for and celebrates Harvest. He even drove his tractor onto the school playground! Thank you James and Tom Bardwell for coming in and telling us all about your different tractors and how they can help you prepare for Harvest.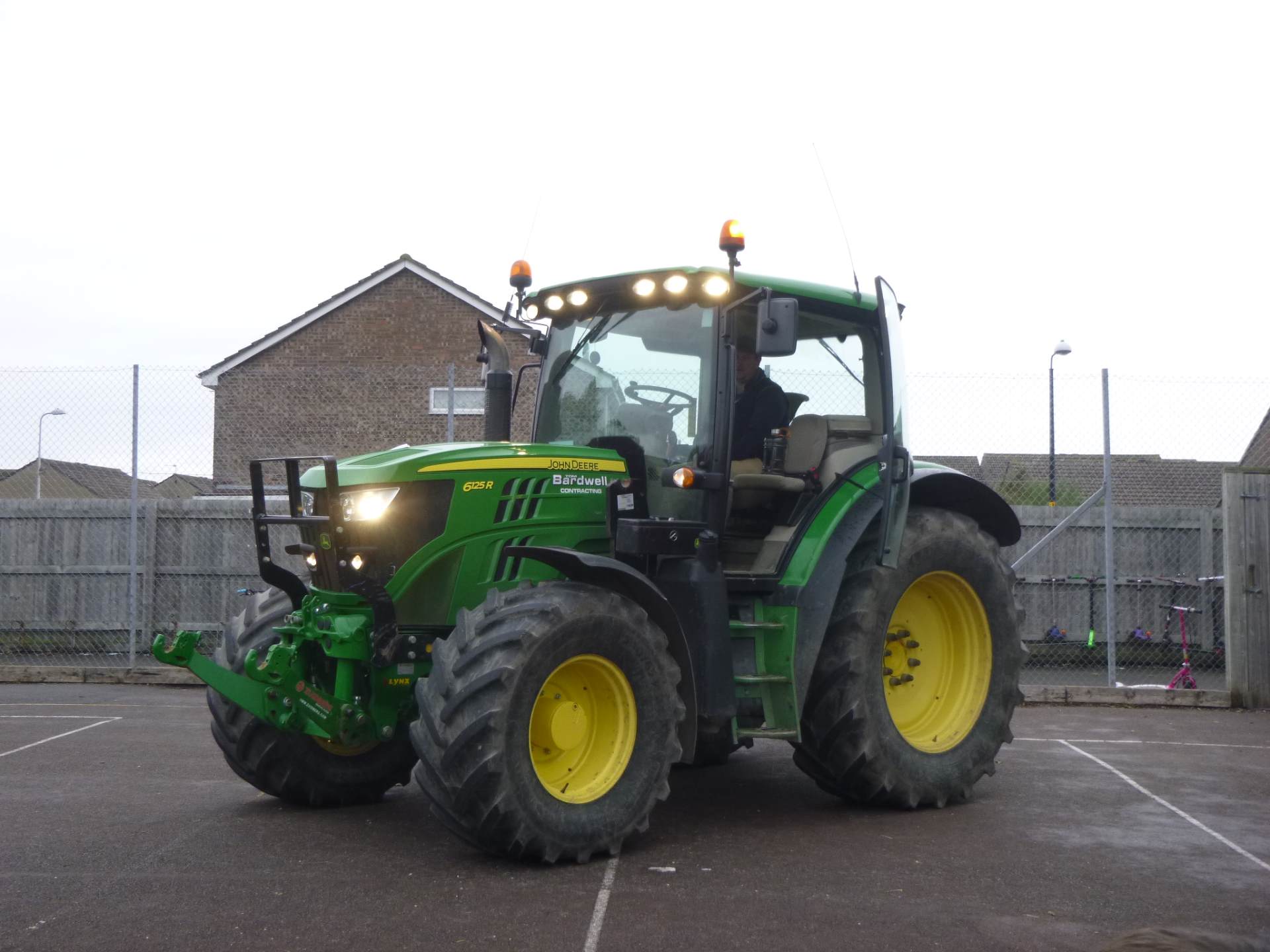 4th October 2019 - Guide Dog Visit
Year One have been very lucky and had three special visitors; Murray, Wilson and Farthing. They are all very important dogs as they are all guide dogs. Wilson's owner Carol is blind and as part of our topic of senses, Carol explained to us about the difficulties she faces and how Wilson can help her. We even got to cuddle the dogs after the visit! Thank you to Carol and the volunteers from The Guide Dogs for giving up their time to come in and explain to us all about the importance of guide dogs.
2018-19
7th June 2019 - SKF Visit DT day!
Year One had, "The best day ever!" according to Jacob on Friday 7th June. Will Curry from SKF spent the day with Year One building catapults. We learnt about medieval siege engines, thought about how we would stay safe while making the catapults, made catapults, and then 'played' (tested/ problem solved/ imagined/ questioned/ thought critically) with them all afternoon. A huge thank you to SKF for planning and providing all of the resources for the day.
23rd April 2019 - Message from a Knight
Term 5 in Year 1 has started with an exciting surprise! Mr Hudd called us in for an emergency assembly where a brave knight delivered a very important message. This message has come from the King and we have been specially selected to become knights to protect him. The knight could not reveal too much to us, so we must find out for ourselves. We have been given a special book by the knight and were told that this is where the information lies. The knight has told us
that if we complete the quest, we will have completed our knight training and he will return to host a knighting ceremony. How exciting!
2nd April 2019 - Arctic Exhibition!
Year 1 have been busy, proudly showing off all of their fabulous work on the Arctic to parents and Year 2 at our very own exhibition. We had lots to show, ranging from our northern lights pictures to our fact files on polar bears and other arctic animals. We even got to teach Mr Hudd about how blubber keeps polar bears warm, using our own ice experiment! We are very proud of our versions of Austin's butterfly, as we worked extremely hard at communicating with each other, so we could improve. Thank you to Year 2 and all the parents who have come to share our exhibition.
8th March 2019 - Bristol Zoo trip!
As part of our Arctic Explorers topic for this term, year 1 made a visit to Bristol Zoo to see all of the wonderful animals. We were very lucky to have had a special and interactive lesson at the education centre from Becky and Dave where we learned all about the Arctic. We came across a life sized polar bear, we saw a giant narwhal tusk (which is actually a tooth), huge reindeer antlers and we pretended to be emperor penguins. A fantastic trip enjoyed by all.
7th January 2019 - Arctic Topic
A mysterious package arrived in Year One. We think it is from the North Pole! It was a huge block of ice and within were many questions about the Arctic. During term 3 and 4 we will be trying to answer them all.
December 2018 - Nativity
Year One amazed everyone with their outstanding nativity. They worked so hard to learn their lines for speaking parts and to learn all of the words for the songs. We are all really proud of the courage they showed.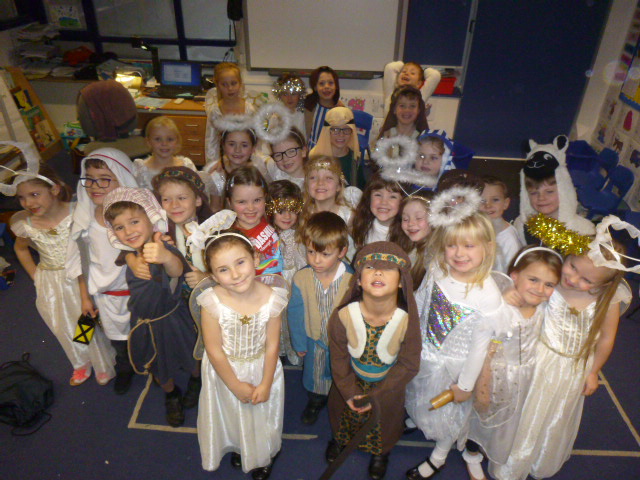 14th November 2018 - Visit to St Andrews Church and Christingle
We have had a busy start to the term with the children learning about celebrations within a variety of religions. We have learnt all about Christingles and what each part of it represents. Sasha from Tesco came into school to help us make our own. We were also lucky enough to have a tour of St Andrews Church and take part in our very own Christingle service. After our visit to the church, we made cards to say "thank you" to the church. We are now preparing ourselves for Mrs Locke's wedding day next week which will consolidate our learning on celebrating weddings within the Christian faith.
Term 1
Wow! What a busy term it has been. The children have settled in really well to year one and the adults they work with have been so impressed with the effort they have been putting into their work.
The children have loved our topic - All About Me. We have learnt all about Clevedon and our bodies. We have been reading the story Funnybones and have used our phonics to rewrite the story. To learn about harvest, we had a special visitor - James Bardwell from Bardwell Contracting. He drove his tractor onto the school playground and told us all about harvest. In maths, we have been counting, sorting, ordering adding and subtracting and finding one more and one less than any number.
Year Ahead Powerpoint
Year 1 Year Ahead Powerpoint 18-19
2017-18
25th June 2018 - Berkeley Castle
Year One had a fantastic time on their school trip to Berkeley Castle. They had a tour of the castle, visited the butterfly house, explored the castle grounds and visited the church.
19th February 2018 - Dinosaur Project
We were joined by Suresh and Rhys of the Bristol Dinosaur Project. Children had the opportunity to handle fossils that were millions of years old. One of the fossils was a T-Rex tooth! The children got to draw and paint their own dinosaur.